Project Overview
The Department of General Services (DGS) in partnership with the Department of Parks and Recreation (DPR) has completed a conceptual study of East Potomac Pool and has been determined that:
The existing pool and deck was built in 1935 and has exceeded its life cycle of 75 years.
The pump room and underside of the pool deck show significant structural fatigue.
The existing pool configuration has a maximum dept of 7 feet with an abandoned diving well and falls short of the international standard for a 50 meter length.
The existing pool is not ADA accessible.
The existing pool house meets current guest capacity, but the current space configuration does not meet ADA compliance for plumbing fixtures or current code requirements.
The pool guest facilities have passed the mid-life cycle, approximately 44 yrs.
The current facility's operations space does not meet the vision and function of a world-class facility.
DPR and DGS has been working with National Park Services (NPS) as the property still belongs to them, on the initial feasibility, planning and conceptual design of the pool and pool house.
Project Details
Location: 972 Ohio Drive SW
Ward: 2
DGS Project Manager: Mark Bacus
DPR Project Manger: Marshella Wallace
Budget: $3 Million
Project Status: Design Phase
Architect: Hughes Group
General Contractor: TBD, when funding becomes available
Start Date: March (design) Construction (TBD)
Completion Date: April 2016 (design) Construction (TBD)
DGS Contact: Jackie Stanley
Pool closed: September 30 for the 2015 summer season. The closure is not related to this project.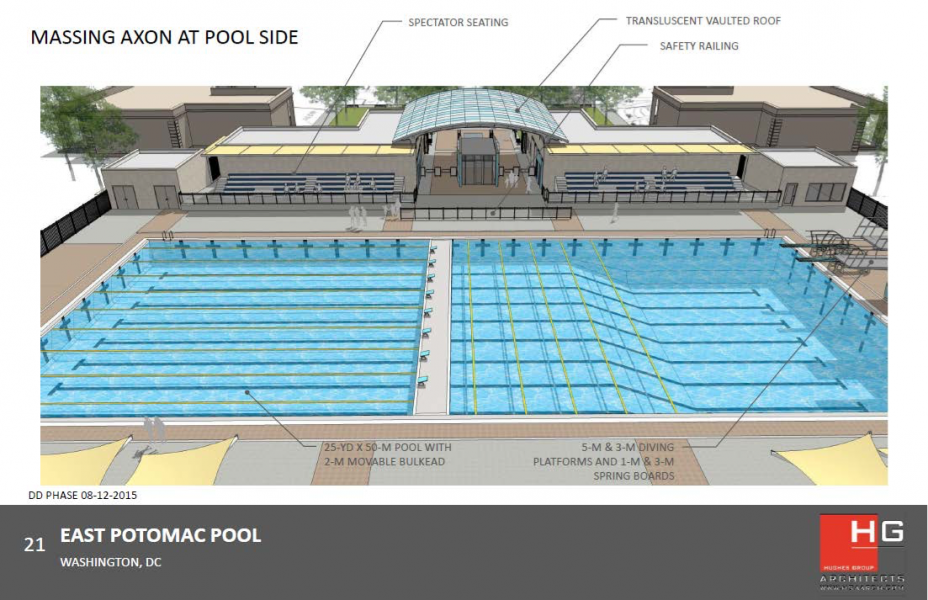 Proposed design. Not final