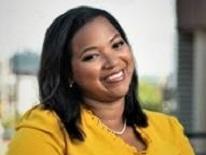 Kasmin Holt is the Program and Operations Manager in the Office of the Director, supporting the Director, Chief Operating Officer, and Deputy Chief Operating Officer on various special projects and initiatives. Public service and social equity are core to Kasmin's philosophy. As the daughter of native Washingtonians, Kasmin is honored to work in her city's government, which continues to be one of the most enriching experiences thus far in her brief career—especially solving some of the more challenging yet intricate interagency cases.
Kasmin has worked in various capacities across the Executive Office of the Mayor and joined Team DGS in February 2019 from the Office of the City Administrator, where she was the Senior Agency Operations Analyst for the Planning and Economic Development Cluster. Kasmin also worked at the Democratic Congressional Campaign Committee for two election cycles.
Holt holds a Bachelors in Government with a minor in Psychology from Smith College.
Contact Email:[email protected]