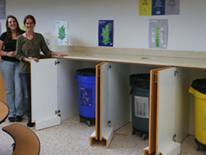 By Brooke Hartman, Schools Outreach Specialist
As the 2013-2014 school year closes we are proud to look back at all the progress that DGS and DCPS have made in recycling! We hope that the stories from this year will inspire even more DCPS Recycles! Success Stories in 2014-2015.
Next year, thanks to the lessons learned from our eleven participating pilot schools, DGS will be expanding organics pick up services to all DCPS schools. This past year these schools sent 22 tons of waste from their kitchens and cafeterias to a compost facility instead of a landfill or incinerator. Next year with all the schools participating we will together accomplish much more.
Many thanks to all the schools that volunteered to start the first day of school as trailblazers for the program! We could not accommodate all requests, but selected the schools that made this year's DCPS Recycles! Honor Roll that also had the luck of being located near the existing commercially viable hauling route.
Schools that will be receiving organics collection service starting August 26, 2014 are:
Amidon-Bowen Elementary School (Ward 6)
Capitol Hill Montessori @ Logan (Ward 6)
Hart Middle School (Ward 8)
J.O. Wilson Elementary School (Ward 6)
McKinley Technology High School (Ward 5)
Moten Elementary School (Ward 8)
Orr Elementary School (Ward 8)
School Without Walls @ Francis Stevens (Ward 2)
Powell Elementary School (Ward 4)
Thomson Elementary School (Ward 2)
All other schools can check their organics service start dates here. All schools that requested early start dates will start on November 3, 2014. All other schools will start on February 2, 2015.
We look forward to many more DCPS Recycles! Success Stories in 2014-2015!
If you have any questions or media inquiries, please contact:
Kenny Diggs, DGS Director of Government Affairs and Communications
Phone: (202) 580-9361
What would you like to read about on the DGS Blog? Let us know.