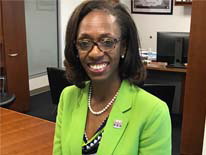 Greer Johnson Gillis is the DC Department of General Services (DGS)'s Director. Ms. Gillis is a senior professional engineer and project manager with more than 20 years of experience in transportation planning, having led several large-scale infrastructural projects with regional jurisdictions on the improvement of traffic operations.

Before accepting the position as DGS Director, Ms. Gillis served as the Deputy Director for the DC Department of Transportation (DDOT) after serving as the area manager for the Washington, DC, office of Parsons Brinckerhoff. She was the President of the DC Corporation of Parsons Brinckerhoff, P.C., and was the Assistant Vice President of the parent company, Parsons Brinckerhoff, Inc. As area manager, she oversaw the transportation services staff and managed various infrastructure, planning and design projects, client relations management, business development, and financial oversight for activities in the metropolitan Washington, DC, area.

Previously, Ms. Gillis served as the Deputy Chief Engineer at DDOT, where she oversaw infrastructure projects about the Anacostia Waterfront Initiative program, Stormwater Management Branch, Safety Standards and Quality Control Division, the Intelligent Transportation Services (ITS) Division, and Citywide Special Projects. She also oversaw the $300 million 11th Street Bridges Design-Build Phase I Project, the South Capitol Street FEIS, and was an adviser to the Nationals Ballpark Transportation Operations Planning Task Force. Ms. Gillis was the transportation lead for the 2009 Presidential Inauguration and served as DDOT's Acting Chief Engineer from October 2009 to March 2010.

Ms. Gillis holds a master's of science in civil engineering with a concentration in transportation, and a bachelor's degree in civil engineering, both from the Georgia Institute of Technology in Atlanta, Ga. She holds a National Women of Color Technology Award from the Career Communications Group. In 2014, President Barack Obama and US Secretary of Transportation Anthony Foxx honored Ms. Gillis as a "White House Champion of Change: Transportation Ladders of Opportunity" for her efforts in diversity, including mentoring and championing women's and minorities' participation in the engineering industry. Throughout her career, she has served as a role model and advocates for building a diverse transportation workforce.
Contact Information: [email protected] Twitter: @weelevate Web: www.dcdgs.dc.gov