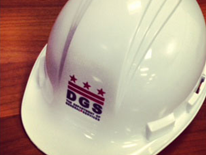 The District of Columbia's Public Schools are in the midst of the most massive transformation of any public school district in the country. As recently as four years ago, many considered the possibility of providing educational excellence in DC public schools an unattainable goal. Years of neglect left the District's public school facilities in a truly deplorable state. The District of Columbia Public Schools (DCPS) Master Facilities Plan (MFP) is the action plan that will deliver classrooms that support educational needs and provide safe, positive learning environments to the children of the District. The 2010 MFP was approved by act of the DC Council and became the guiding framework for the implementation of projects by the Office of Public Education Facilities Modernization (OPEFM), which is now the Department of General Services (DGS).
At the heart of this plan is the premise that the quality of the learning environment significantly impacts student achievement. No child should wait 15 years or more before they are taught in a modernized classroom and their school is brought up to a standard of excellence. This plan brings the benefit of modernized schools to as many students as possible, as soon as possible.
Building on the success and lessons learned from the school renovation projects of the last three years, it is known that with targeted modernization investments a school facility can be dramatically improved in just one year. With a strategic approach, it is possible to modernize the core academic components of every DCPS school by 2015, or within five years of the plan having been approved. By utilizing such an approach, the 2013 MFP will fulfill the goals of the School Modernization Financing Act within the anticipated budget and meet every parent's vision of being able to send their child to a safe, welcoming and supportive learning environment.
Related Information

The Workforce Incentive Program (WIP)
WIP has been created to increase participation of District residents on capital projects. It is designed to increase District resident participation in pilot projects from the existing 22 percent of workers to 35 percent or more of hours worked. WIP incentivizes contractors and subcontractors to increase hiring of District residents