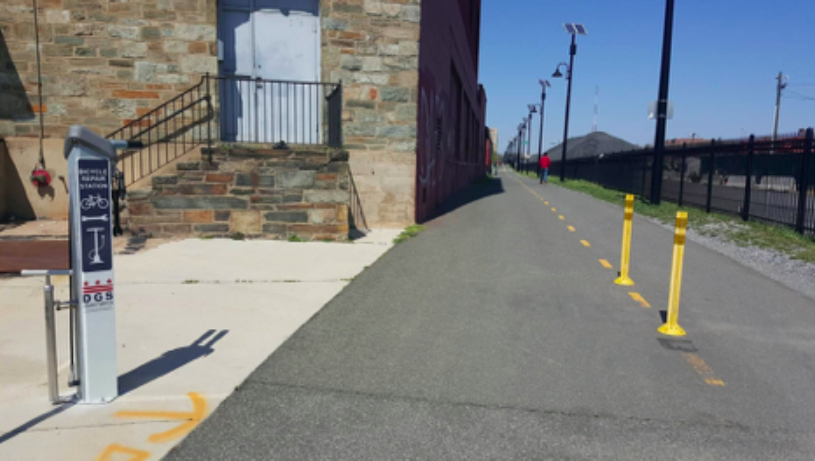 The DGS Bicycle Repair Station Program, created and managed by Department of General Service's Energy and Sustainability Division is helping District cyclists gain access to all the tools needed to make their rides trouble-free. Each bike station is equipped with an air pump and eight retractable tools (listed below). Based on thorough research and consulting with many experts on the topic of District-wide installation locations, Team DGS was able to identify sites that would best benefit District cyclists.
As a result, DGS has installed fourteen (14) bicycle repair stations in all eight (8) Wards at the following locations:
Banneker Rec Center (2500 Georgia Avenue, NW - Ward 1)
Reeves Center (2000 14th Street, NW - Ward 1)
Georgetown (34th Street, NW & Water Street, NW - Ward 2)
The Wilson Building (1350 Pennsylvania Avenue, NW - Ward 2)
Tenley-Friendship Neighborhood Library (4450 Wisconsin Avenue, NW - Ward 3)
Takoma Aquatic Center (300 Van Buren Street, NW - Ward 4)
Penn Center (326 R Street, NE - Ward 5)
Turkey Thicket Recreation Center (1100 Michigan Avenue, NE - Ward 5)
Rosedale Recreation Center (1701 Gales Street, NE - Ward 6)
Anacostia Neighborhood Library (1800 Good Hope Road, SE - Ward 7)
Department of Employment Services (4058 Minnesota Avenue, NE - Ward 7)
Francis Gregory Neighborhood Library (3660 Alabama Avenue, SE - Ward 7)
H.D. Woodson Senior High School (540 55th Street, NE - Ward 7)
Barry Farm Recreation & Aquatic Center (1230 Sumner Road, SE - Ward 8)
Each Bicycle Repair Station is equipped with the following tools for District cyclists:
Air Pump
Headset
Wrench
Torx
Hex Set
Phillips Screwdriver
Flatblade Screwdriver
Two (2) Tire Levers
The stations are not intended to replace the function of bike shops, but rather work in conjunction to provide easily accessible tools for quick fixes in areas that may not be close to many bike shops or areas that have yet to develop a strong biking support structure.
Click The Image Below To View The Interactive Map