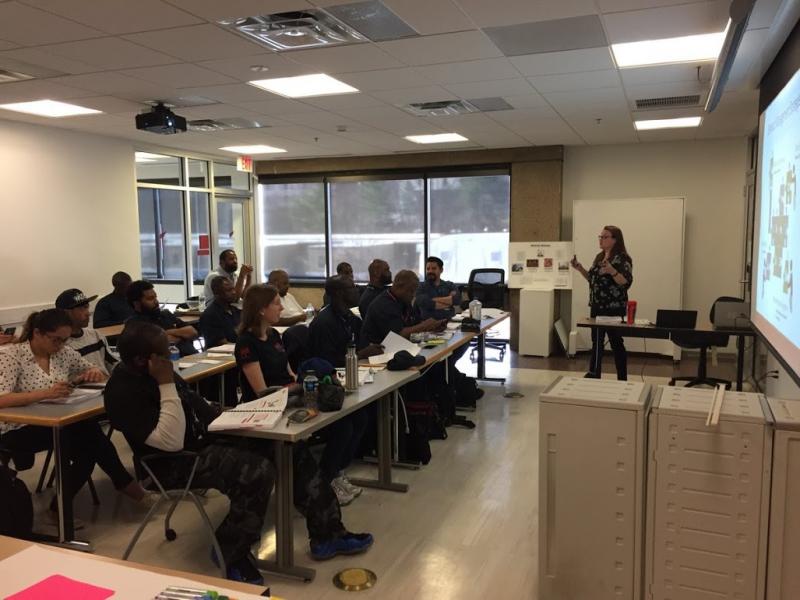 In a Building Re-tuning training in 2018, building operators learn simple tricks for making their buildings more cost and energy efficient
In 2016, DGS SE created the DGS Energy Management Academy to provide employees with the cutting edge skills required to operate new, high performance buildings as efficiently and effectively as possible.
Recognizing a gap in local training offerings for building science and energy efficiency, DGS partnered with the University of the District of Columbia's Center for Architectural Innovation (now called the Center for Architectural Innovation the Building Science (CAIBS)) to offer trainings in this area to public and private sector employees and workforce development candidates. Since partnering with UDC, DGS has sent over 75 staff members to UDC's training program for continuing education or to earn certifications. DGS has also worked with the DC Sustainable Energy Utility and other partners to offer trainings across the city.
Upcoming trainings:
Online:
• Building Retuning Training- These e-learning courses teach how to assess buildings' energy needs, identify opportunities for improvement, and implement low-cost changes reduce overall energy consumption.
• Federal Energy Management Program e-learning courses- The interactive, on-demand, self-paced courses are designed to provide up-to-date information targeted to mid-level Federal Energy, Water, and Sustainability Managers but are great resources for city employees.
In-person:
• Building Retuning for Buildings with BAS (summer/fall 2018)
• Building Retuning overview course (Fall 2018)
Contact [email protected] for information on upcoming trainings.
Past trainings and timeline:
FY16 (fiscal year 2016):
Trainings offered to DGS staff:
• Building Operator Certification Training (BOC)
FY17: To fill the local training gap, DGS partnered with the University of the District of Columbia to offer building science trainings locally, forming the UDC Center for Architectural Innovation and Building Science (CAIBS). DGS and UDC collaborated with the DC Sustainable Energy Utility and the Pennsylvania College of Technology to provide training to local workforce development participants. Trainings offered to public and private sector:
• Building Operator Certification Training
• LEED Green Associate Training
FY18: DGS, UDC and the DCSEU are scaling up their training offerings in FY18.
Trainings offered to public and private sector :
• Building Operator Certification at the DCSUE (BOC)-Fall '18
• LEED GA - Winter '18
• Building Re-tuning- February '18
• Building Re-tuning- May 23-24, 2018