Under the DC Healthy Schools Act of 2010, DGS is responsible for a variety of activities designed to ensure that schools are healthy, safe places to learn. These include programs on recycling and composting, energy reduction, drinking water testing, indoor air quality, and integrated pest management.
Recent Announcements
Recycling Competition: Did you know that when trash is thrown in your recycling bin your recyclable items are considered "contaminated", and as a result, are often thrown away as trash instead of being recycled? To avoid contamination you must recycle right! Help your school recycle right – Sign up for the DC Recycle Right! Competition to celebrate Growing Healthy Schools Month in October. Check out last year's winners. All DCPS and Charter Schools are encouraged to participate!
Recycling Supplies and Support: We are currently accepting requests for trash and recycling supplies for delivery by January 2019. Click here to order supplies for your school by November 2, 2018.
Single-Stream Recycling: Beginning Winter 2018 all DCPS schools will begin single-stream recycling to make recycling easier and to align with DC's residential recycling program. All recycling bins can be used for mixed recyclables which includes paper, plastic, metal, and glass. Click here to order new mixed recycling labels for your recycling bins. Look out for more information coming soon!
About DCPS Recycles!
The DCPS Recycles! program is designed to fulfill legal requirements; improve building operations; reduce waste of money and natural resources; achieve the SustainableDC target of zero waste by 2032; and teach DCPS students values and skills for a sustainable 21st century. The goal is to sort all waste properly so as much as possible can be composted or recycled instead of sent to a landfill or incinerator!
How is DCPS Doing?
Explore our DCPS Recycles! interactive maps. The maps show that many schools across all eight wards are successfully recycling – and that many schools are not. Select a school on the map to learn more about its participation in the DCPS Recycles! program.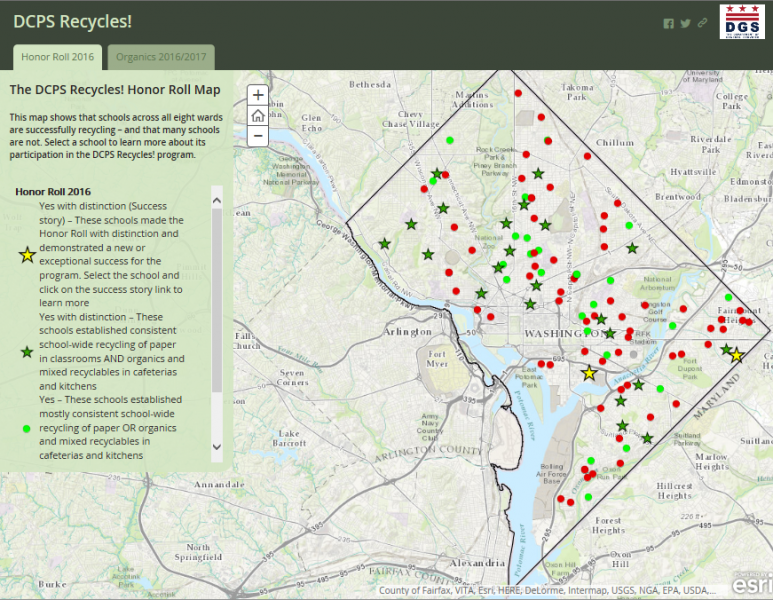 Program Overview
To achieve compliance with DC Municipal Regulations and the Healthy Schools Act, all DCPS schools are expected to sort and collect paper recyclables, mixed recyclables, and non-recyclable trash in accordance with the city-wide hauling contract managed by DGS. In schools that voluntarily opt-in, schools also sort organics (food scraps and soiled paper).
Everyone is expected to participate. All staff and students are to sort waste into bins according to labels and instructions provided.
Teachers are responsible for ensuring blue classroom bins are used for PAPER ONLY.
Custodial staff is responsible for collection. Custodial staff is NOT responsible for sorting. If one person puts trash in a recycling bin, everything in it becomes trash.
Anyone can advocate! Ask your principal who is the delegated administrator responsible for your school's recycling program.
Classrooms and offices should each have a bin for collecting PAPER ONLY. Common areas may have bins for sorting mixed recyclables and/or paper recyclables. In schools recycling organics, cafeterias and kitchens have bins for sorting organics, mixed recyclables and trash.
DGS provides pick up services, standardized supplies, and on-site support. Click on the links below for more information and resources.
Contact: Brooke Hartman, Schools Conservation Coordinator, (202) 701-3158 [email protected]
Review Waste Management Procedures SY16-17 for more details.
Stay up-to-date! Join the DCPS Recycles! Mailing List.
Interested in volunteering with us? Sign-Up to receive information about volunteer opportunities.
Photos
Energy Resources