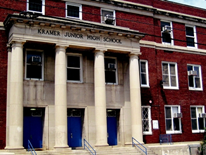 Project Overview
Located in the historic Anacostia neighborhood of DC, Kramer Middle School is dedicated to serving students in grades 6 through 8. The school is scheduled to be renovated the summer of 2014, with completion in August 2015.
The Project Scope of Work
Each classroom will be fitted out in such a manner, to the maximum extent possible, to meet the Performance Criteria as stated in the Master Facilities Plan (many of which follow LEED Certification Guidelines):
Installing new ADA entrance to main building.
Installing security doors and cameras throughout the building, with security monitors at security desk and main office.
Replacing classroom entry doorways and skylights.
Installing new flooring (in selected areas), partition walls, acoustical ceiling tile, and lighting fixtures in all classroom spaces.
Modernizing the main office, including the Principal's office, conference room, administrative area, and "welcome" areas. The nurses' suite will also be enhanced to include an ADA compliant bathroom.
Installing new marker-boards, tack-boards, casework, projection screen, audio/video equipment, and Smart Boards. Install new electrical outlets, voice, data, and CATV ports as required for new classroom configurations.
Providing new Furniture, Fixtures and Equipment (FF&E) in classroom spaces and other identified spaces.
Installing a new elevator shaft and elevator.
Replacing the existing heating units with new ventilation systems in the classroom spaces to ensure year-long thermal comfort of the occupants.
Installing new RTUs that service all areas of the main building and the gymnasium area.
Installing new restrooms fixtures: in gym locker rooms, and also install a new restroom in the Principal's office. The other restrooms will be modernized with new fixtures, floorings, ceilings and lightings, and ADA compliant restrooms will be located on each floor.
Replacing existing windows with specified glazing at entrances and throughout the building.
Project Details
Kramer Middle School Modernization Project
Location: 1700 Q Street, SE
Ward: 8
Project Budget: $33.9M
DGS program Manager: Darryl P. Somerville
Design Architect: Quinn Evans/Millennium Designs
Design Builder: Turner Construction
Project Status: In Construction
Completion Date: August 2015
Featured Presentation
Kramer Middle School Modernization Project Community Meeting Presentation June 18, 2014