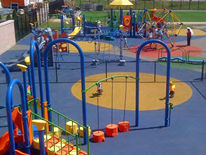 Project Overview
As part of the Play DC comprehensive Parks and Recreation 10-15 year Master Plan for the District of Columbia, the current play space at Lafayette Recreation Center will be renovated to enhance the park's resources to help Washingtonians "Move, Grow, and Be Green!" To ensure that the newly renovated play space meets the needs of, and reflects the individuality and uniqueness of the community, DGS strongly urges District residents to participate in the community meetings.
Lafayette Park and Playground is located in the Chevy Chase neighborhood in Northwest, DC. The park currently consists of nine acres and is run by the Department of Parks and Recreation. It shares the site with Lafayette Elementary School, part of the DC Public School System. The site is framed by the following streets, Quesada, Broad Branch, 33rd, and Northampton on the south side of the park. The park is open daily to the public and closed after dark.
Project Details
Lafayette Park and Play DC Playground Renovation Project
Location: 5900 33rd Street, NW
Ward: 4
Construction Agency: DGS
Start Date: October 2014
End Date: February 2014
General Contractor: HRGM
Architect: LandDesign
Budget: $1,500,000
Status: Completed
Note: More information will be posted as it becomes available.
Current Playground Features
Swings
Bucket swings
Tire swings
Separate fenced toddler and unfenced big kid play areas
Slides
Climbing features
Climbing wall
Monkey bars and rings
Spring based riders
Sand pit
Musical play equipment
Water sprinkler
Current Playground Amenities
Bathrooms
Water fountains
A small recreation center
Featured Presentations
Lafayette Park and Playground Community Meeting Presentation September 15, 2014
Lafayette Park and Playground Renovation Project Community Meeting Notes September 15, 2014
Images of Current Lafayette Playground Play Spaces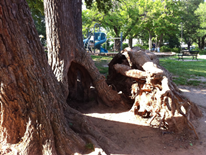 Concept Renderings of New Playground Equipment for Lafayette Playground


Concept Renderings of the New Splashpad - Raindrops Water Feature for Lafayette Playground

Related Information