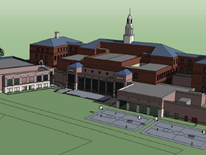 Project Overview
The original school building was designed by Snowden Ashford in 1903, and named for Jesse Reno (April 20, 1823 - September 14, 1862), who was a career United States Army officer who served in the Mexican-American War, the Utah War, the western frontier, and as a Union General during the American Civil War. Known as a "soldier's soldier" who fought alongside his men, he was killed while commanding a corps at Fox's Gap during the Battle of South Mountain. Fort Reno in Washington, DC was also named after him.
The Rose School was closed in 1950. The facility was utilized as a Civil Defense Office for some time, afterwards. It was later reopened as the Rose School for students with special needs.
It was listed by the DC Historic Preservation Review Board, in 2009. It was listed on the National Register of Historic Places, in 2010.
The project consists of a full modernization and renovation of the existing historic Reno School using an adaptive re-use approach.
Modernization in accordance with the Ed Specs.
Project Details
Reno School Modernization Project (Also referred to as Rose Reno School Project)
Ward: 3
Location: 4820 Howard Street, NW
Status: Construction Completed December 2014
DGS Contact: Jackie Stanley
Schedule: December 2014
Featured Presentation
Jesse Reno Renovation and Addition - Neighbor's Meeting Presentation June 14, 2014
Project Webcam
Related Information