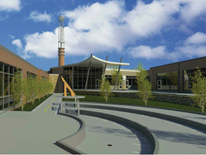 Project Overview
The River Terrace Elementary School was built in 1952, on a four acre site, it received an addition in 1959, adding 10 classrooms, a multi-purpose room, gymnasium, cafeteria and kitchen facility, with office and support spaces.The current program is to produce a state-of-the-art facility to accommodate the education of students with exceptional needs and profound disabilities between the ages of 3 through 21.
This project is the full modernization of the school facility, in accordance with the Ed Specs, to include a total 'gut' and renovation of the interior building providing new classrooms, media center, cafeteria and kitchen area, with a refurbished gymnasium. The new addition will house the career development center (CDC), administration suite with a visitors' welcoming center, health suite with a doctor and dentist office, occupational therapy suite with a therapy pool, music and art rooms, and sensory rooms.
The program includes site restorations for accessible playground equipment and exercise devices, ramps and pavement with markings for outside learning games, landscaping and horticultural gardens, and a courtyard garden with an amphitheatre and outdoor classroom. The facility will be equipped with energy efficient mechanical and plumbing systems, with sustainable design windows, technology enhancements, and ADA improvements. This will bring it up to 21st century DCPS standards for a school for 160 students. DCPS expects a modernized facility to have operational and efficient building systems, clean and maintainable interior finishes, bright and "healthy" classrooms and public spaces. It should be flexible, functional and focused on both school and community needs. DCPS believes that every child deserves to learn in an environment that supports the delivery of a high-quality education.
Project Details
River Terrace Special Education (SPED) Center Project
Overall Project Budget: $35.8M
Project Completion: August, 2015
Ribbon Cutting: TBD
Project Manager: Eupert Braithwaite
Architects: Bryant Mitchell and Fanning Howey
Design-Build Team: GCS, Inc.
Project Status: Active Construction
Project Completion: August 2015
LEED / Sustainable Design Initiatives
River Terrace Special Education (SPED) Center is planned to achieve LEED Gold certification in compliance with the US Green Building Council's LEED for Schools 2009 rating system criteria.
Featured Presentation
River Terrace Elementary School SIT Presentation 3-26-14
Related Information