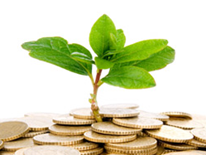 Department of General Services (DGS) will pursue an 'all of the above' approach to finance its green energy efforts, from traditional public sources (both capital and operating dollars) to mechanisms that could provide the District with access to alternative financing.
Highlights
Traditional Funding
Capital/Bonds
Mayor Vincent C. Gray has proposed that DGS receive total of $12.9M in capital funds for energy efficiency and environmental conservation retrofits from FY2013 to 2016 ($8.9M in FY2013; $1.5M in FY2014-15; $1M in FY2016). The Sustainability and Energy Division will seek maximum return-on-investment for this sizable allocation of funding.
Energy Savings Capture
When possible, the Division will seek to reinvest funds saved as a result of energy efficiency and conservation efforts. For example, any dollars saved in electricity or natural gas costs - money that would have been spent on utility payments, but was avoided because of reduced consumption - could be invested into upgrades to further reduce consumption. This re-investment strategy would help realize maximum energy efficiency for the District's public facilities.