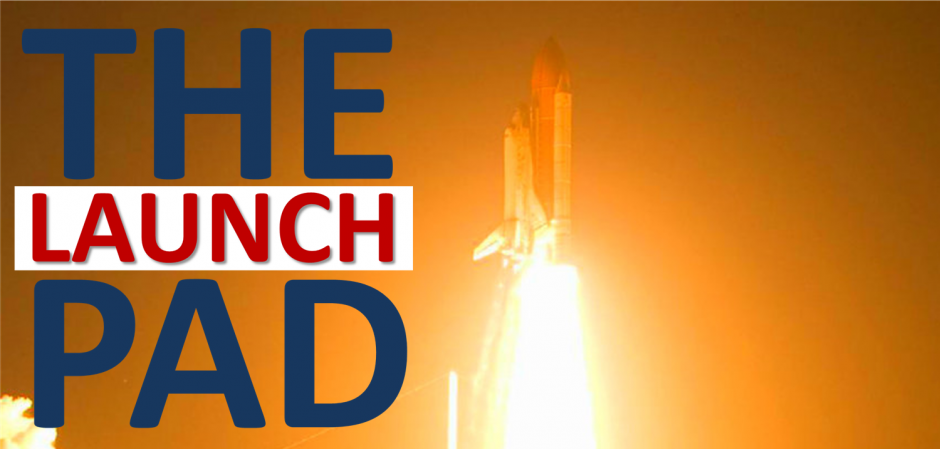 The Department of General Services (DGS) is happy to announce "The Launch Pad". The Launch Pad is a new opportunity for DGS to engage local Certified Business Enterprises (CBE) through an innovative concept that works towards Mayor Bowser's citywide initiative of creating pathways to the middle class.
In response to public requests for increased engagement with CBEs, DGS has created an opportunity for businesses to receive small contract awards with the District Government for innovative ideas tied to citywide development.
Following a concept similar to the nationally televised show "Shark Tank," local CBEs get the opportunity to bring their talents to fruition by presenting their qualifications to DGS Senior Staff, who will be serving as Launch Pad Judges.
Each CBE is allotted a 5-minute presentation time slot with the Launch Pad Judges Panel — in return, their business can potentially be awarded a contract with the District (of up to $100,000). Each contestant works to efficiently and effectively convince the judges of their business ideas.
After the final presentation the judges will award one contract based on the qualifications and presentation of the companies that presented. A contracts will be awarded the same day of the presentations.
This initiative is open to all CBEs in the District. DGS encourages CBEs to participate as we continue our efforts of elevating the quality of life for District residents and businesses by promoting a transparent, competitive process for engagement. Launch Pad opportunities will occur monthly.
Monthly Scope of Work (PLEASE REVIEW BEFORE REGISTERING)
For any firm that registers through the DGS Website, please bring 20 copies of your presentation for DGS Senior Staff and an electronic copy should be sent to

[email protected]
Other Initiative-Related Documents
Businesses Registered for The Launch Pad Event (businesses that registered for events that took place after the June 28th event)
Launch Pad Event Registrants
Each Launch Pad Event is limited to the first ten CBE registrants
PEER Consultants, P.C. (Friday, February 17, 2017 11:46 AM) - WINNER!
Businesses Registered for The Launch Pad Event (March 29, 2017)
Access Green, LLC (Monday, March 20, 2017 11:01 AM)
Greenscape Environmental Services (Monday, March 20, 2017 at 11:01 AM) - WINNER!
LED Partners & Associates, LLC (Monday, March 20, 2017 at 11:03 AM)
Diversified Enterprises Group, LLC (Monday, March 20, 2017 at 11:31 AM)
ECO Construction, LLC (Monday, March 20, 2017 at 11:37 AM)
Motir Services Inc. (Monday, March 20, 2017 at 1:04 PM)
Leone Tech, LLC (Monday, March 20, 2017 at 1:26 PM)
Businesses Registered for The Launch Pad Event (April 14, 2017)
Mimar Ponte Mellor of DC, Architects and Engineers, LLC (Friday, April 14, 2017 at 11:00 AM)
Bello, Bello & Associates, LLC (Friday, April 14, 2017 at 11:01 AM)
Atelier Mjk, PLLC (Friday, April 14, 2017 at 11:03 AM)
Simon Development & Construction, Corp. (Friday, April 14, 2017 at 11:05 AM)
Citadel Development, LLC (Friday, April 14, 2017 at 11:05 AM) - WINNER!
The Impact Group, LLC (Friday, April 14, 2017 at 11:13 AM)
Taurus Renovation Consultants, Inc. (Friday, April 14, 2017 at 11:14 AM) - WINNER!
North Arrow, Inc. (Friday, April 14, 2017 at 11:53 AM)
Businesses Registered for The Launch Pad Event (May 24, 2017)
OPENArck LLC - May 15, 2017 @11:01 am Winner
Nai Xander – May 15, 2017 @11:05 am
Mjones Company – May 15, 2017 @ 11:12 am
Businesses Registered for The Launch Pad Event (June 28, 2017)
Plum Good, llc = June 19, 2017 @ 12:19 pm
Simple Solutions – June 19, 2017 @ 12:21 pm Winner
Solutions by SF, LLC June 19, 2017 @1:04 pm
Ex Nihilo Management, LLC June 19, 2017 @ 1:45 pm
Vision Consulting, LLC June 19, 2017 @ 4:02 pm