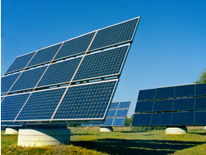 The Department of General Services (DGS) will significantly increase onsite renewable energy generation throughout its portfolio, including solar, geothermal and potentially more sources. Ultimately, through the aggressive efforts related to energy efficiency (described above) and improved renewable generating capacity, DGS will dramatically reduce its reliance on carbon-based energy sources by the end of the decade.
Solar
Solar photovoltaic (PV) and solar thermal systems will be pursued wherever physically and economically feasible, both on existing buildings and in new construction efforts.
Geothermal
DGS will build on the positive experience of geothermal system installations in several recent school construction projects. While installation of such systems will be explored for existing buildings, the major focus will be to integrate geothermal heat pumps into new and major construction projects.
Other
From wind energy to biomass and more, all options will be pursued for renewable energy generation for District of Columbia public facilities.