FOR IMMEDIATE RELEASE: March 14, 2013
CONTACT: Kenneth Diggs (DGS) 202.580.9361, [email protected]

PRESS RELEASE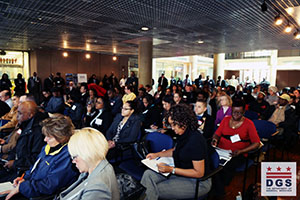 (Washington D.C.) - More than 150 local contractors and business owners networked with officials from the Department of General Services (DGS) at the Reeves Center to learn about opportunities to work on over 50 summer construction projects in the District.

"This is an exciting time for the Department of General Services as we finalize plans for summer construction," said Brian J. Hanlon, DGS Director at the forum.

Upcoming summer construction projects that were discussed at the forum included Phase 1 school modernizations, recreation and playground improvements, and municipal building projects. The event also provided local contractors with the opportunity to speak directly with District officials from the Department of Small and Local Business Development (DSLBD), the Department of Employment Services (DOES) and the Office on Returning Citizens Affairs (ORCA).

"Not only are we going to discuss upcoming projects, but we've invited partner agencies that are here to work with you to build capacity, and understand contractual requirements for contracts now and in the future," Hanlon said.

THE DEPARTMENT OF GENERAL SERVICES:
The mission of the Department of General Services (DGS) is to elevate the quality of life for the District with superior construction, first-rate maintenance and expert real estate management. By building and maintaining safe and green state-of-the-art facilities which foster economic growth and elevate educational environments, our trusted and skillful employees create modern and vibrant communities across all of the District of Columbia.

For more information on the Department of General Services, please visit www.dgs.dc.gov.

###
Follow DGS on Facebook and Twitter!
Follow DGS on Twitter at http://www.twitter.com/DCDGS and on Facebook at http://www.facebook.com/DCDGS.
---
WIP Pamphlet
---
Upcoming Construction Project Sheet