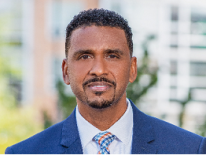 Ian Williams joined the Department of General Services (DGS) as Chief Information Officer. Prior to his role at DGS, Mr. Williams served as Chief Technology Officer at a local government agency where his experience included implementing a Customer Resource Management system, transitioning that agency's on-premises Enterprise Resource Planning software to the cloud and migrating local systems to cloud-based solutions.
Mr. Williams has also previously served as Change Advisory Board Chairman, IT Security Operations Manager and Critical Events Manager for the District of Columbia government's Office of the Chief Technology Officer (OCTO). Mr. Williams was responsible for authorizing all changes impacting the District of Columbia government's Information Technology (IT) infrastructure, ensuring continuity of operations and managed restoration of interrupted IT services to District agencies and constituents.
Prior to this, Mr. Williams served as Chief Information Officer for the DC Department of Parks and Recreation (DPR). During his tenure there, Mr. Williams streamlined several agency processes through the implementation of IT-based solutions such as a Customer Relationship Management system, a Facilities Maintenance Management System, a Geographic Information System (GIS) mapping suite and also expanding the agency's enterprise network to 81 DPR locations throughout the city.
Mr. Williams was also selected by the District's then Chief Technology Officer to be the Chief Information Officer for DC Public Schools and the IT Portfolio manager for Education. In this role, Mr. Williams instituted technology campuses throughout the District, brought technology to the classroom and implemented a software-based solution to serve children with special needs who reside in the District of Columbia.
Mr. Williams holds a Bachelor of Science degree in Electrical Engineering from the State University of New York at Buffalo and is a Project Management Institute certified Project Management Professional.
Contact Email: [email protected]