With the passage of the landmark Green Building Act of 2006, D.C. became the first major city in the U.S. to require green building certification for both the public and private sectors. As the agency tasked with constructing and improving District government facilities, DGS is committed to continuing this leadership legacy in green building. DGS works to build public environments and world-class structures that encourage health, happiness, productivity, and learning while minimizing the structures' embodied energy and lifecycle demand for resources.
This work has led to the completion of 27 LEED-certified buildings for DC and 45 additional buildings that are tracking for LEED certification in the future. DGS's construction projects have also received other green certifications, such as EnergyStar, and many have received architecture and design awards. Moreover, with DGS setting the foundation for green construction, the District is on the leading edge of green construction policy and practice. It is the first city in the world to receive a Leadership in Energy and Environmental Design (LEED) Cities Platinum leadership certification in recognition for achieving sustainability and resiliency goals. The District has been consistently ranked on the Environmental Protection Agency's list of U.S. metropolitan areas with the most Energy Star-certified buildings.
Net-Zero Energy Building Design
DGS-SE is now looking into enhancing its portfolio by moving towards Net-Zero Energy (NZE) building design on its upcoming projects. The application of NZE design principles enables the facility's total energy use on an annual basis equal to its onsite renewable energy generation, facilitating a low Energy Use Intensity (EUI) score. An NZE is an energy-efficient, grid-connected building that generates energy from renewable sources to compensate its energy demand, integrating this with energy efficiency measures and passive energy use. This NZE design principle will help further contribute to lowering overall greenhouse gas emissions during operations than similar non-NZE buildings and improve the District to fulfill its carbon neutral and resilient climate goals.
Upcoming projects
Benjamin Banneker High School- Net Zero Energy School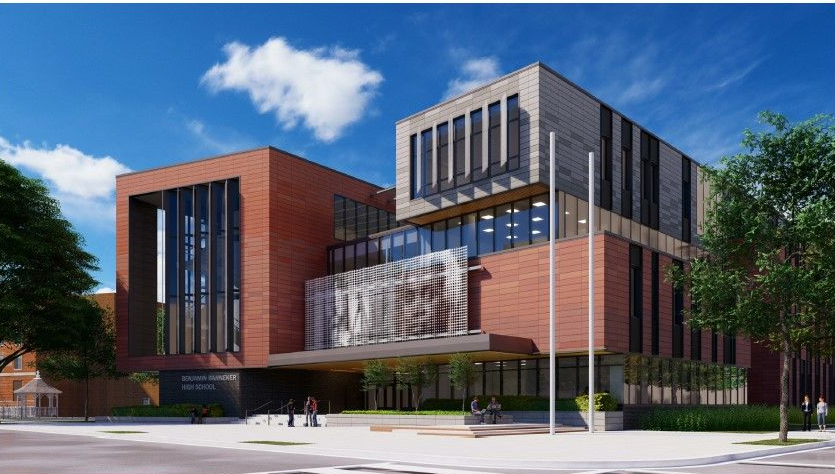 Rendered Image: Net-Zero Energy school project, Benjamin Banneker High School (Ward 2) *construction underway
Sustainability Initiatives
DGS believes in promoting sustainability and conservation in all facets of its work to make the District a healthier, greener city. Read below to learn more:
Outdoor Classrooms:

Photo courtesy of HRGM, builder
DGS-SE, with support from DGS-Capital Construction, the Office of the State Superintendent of Education (OSSE), and the D.C. Department of Energy and Environment (DOEE), is designing and overseeing the construction of groundbreaking outdoor classrooms DCPS schools. These classrooms will serve as venues for environmental and health education and will provide opportunities to learn about renewable energy, stormwater management, native planting, nutrition, and sustainable agriculture. As of 2018, outdoor classrooms have been constructed or are under construction at three D.C. public schools:
• Leckie Elementary School
• Hardy Elementary School
• Tubman Elementary School
Supporting Sustainable Transport: Cycling
DGS is committed to developing a convenient, accessible, and resilient transportation system and has installed more than 14 bike repair stations throughout all eight wards. Each station is equipped with eight retractable tools and an air pump, enabling quick bike fixes for the city's many cyclists, promoting sustainable transport that promotes healthy physical activity that is environmentally, socially, and economically viable.
Extensive research from multiple experts ensured the placement of each station was accessible, useful, and most needed. The stations supplement existing bike shops and work in conjunction with local businesses to provide easily accessible tools for quick fixes in areas that do not have a strong biking support structure. There are 11 bike repair stations across the District available for public use. Locate the nearest bike cycle repair station near you:
Bike fix-it stations: