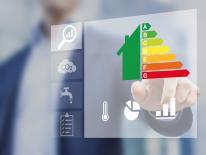 DGS operates and manages more than 400 District government buildings as efficiently and effectively as possible to deliver superior service, comfort, and cost-savings to D.C. residents. Through its energy efficiency initiatives, DGS improves building performance and thermal comfort, while reducing costs and environmental impacts.
The Sustainability and Energy Management Division energy efficiency program utilizes a data-driven approach that allows the agency to identify and prioritize low-cost, high impact improvements to its portfolio. Utility consumption data and, where applicable.
DGS-S&E energy efficiency initiatives include:
• Lighting retrofits
• Retro-Commissioning
• Constant Commissioning
• Energy Retrofits
• SmartRoof Program
• Lighting Retrofits
The agency is continually replacing inefficient light bulbs with new LED bulbs and lighting systems that include motion sensors and timers that greatly enhance energy efficiency and reduce costs. At Eastern Market, the Comprehensive Lighting Retrofit Project will switch exterior lights to a state of the art light-emitting diodes (LEDs), while incorporating a daylight harvesting design. The project is estimated to cost $30,000 and will save $12,000 in energy costs each year. Many similar projects with similar payback periods have been implemented, identified, and planned across the DGS portfolio.
Projects sites have included:
• Emery Shelter
• King Greenleaf Recreation Center
• Eastern Market
• One Judiciary Square
• Animal Shelter, 1201 New York Avenue, N.W.
Related
Energy Efficient Lighting Systems Retrofits, Sensors and Controls – Solicitation
Smart Building Network
The Smart Building Network (SBN) is a Building Automation System (BAS) that predicts energy consumption, cost, and comfort, based on the building attributes, weather forecast, energy pricing, and signals from the utility. The SBN utilizes VOLTTRON, the Department of Energy's open platform to analyze and convert data from connected buildings into actionable information to make real-time changes to each building's heating, ventilation, and air conditioning systems, and reduce costs as much as 25 percent.
The DGS SBN will build on previous and ongoing efforts to connect critical buildings in the portfolio numbering over 60 facilities that are BAS ready with hardware and software and is designed to be flexible and adaptive and to take on new uses as opportunities are identified. The SBN consists of a centralized data hub, hardware deployed in connected buildings, interfaces with existing DGS platforms, analytical tools, and customized user interfaces. At the heart of the SBN is a cloud-based data hub that can provide a quick glimpse of the current conditions of all connected buildings, a deep reserve of trended building data, and built off industry-standard vendor-neutral BACnet. The platform requires no manual interaction and is designed to support the work of multiple DGS teams and stakeholders. It includes building operators, building occupants, DGS management across divisions, tenant agency leadership, and D.C. government leadership.
DGS-SE expands upon and improves the Smart Building Network to deploy the following programs:
• Retro-commissioning
• Energy Retrofits
• Constant commissioning
DGS-SE has deployed its retro-commissioning/retrofit program at roughly 100 buildings with building automation systems, sensors, controls, and communication network upgrades.Through retro-commissioning, DGS identifies and prioritizes capital upgrades to augment existing mechanical and control systems. In this process, installed and customized data collection monitors will capture building performance data that includes space temperature, asset-level information such as boiler, chiller, and air handler cycling; and how often outdoor air is brought into the facility. Consequently, frequent performance monitoring of the building systems will be used to support long-term planning for capital retrofits enhancing building performance and comfort.
During the retro-commissioning process, DGS will apply industry best practices, tuning the building and evaluating the building equipment and control performance. The performance data gathered will help inform DGS in targeting investments towards improving energy performance, and carefully direct data-driven follow-on capital upgrades, thereby enabling DGS to lower both the immediate and total lifetime cost of building operations.

Constant-Commissioning (CCx)
The CCx program facilitates the speedy resolution of energy performance and comfort issues through active data monitoring and pro-active management of building mechanical systems. The program builds on capital projects that create the infrastructure to deliver data flows from building automation systems and advanced metering installations. It aims to leverage technology resources to provide increased comfort levels while reducing energy use. Continuous diagnostics and critical alarms enable data-driven support for occupants, simplify the identification of performance improvement opportunities, and track HVAC and control problems for building engineer teams that are empowered to identify and resolve issues in near-real-time.
Related
Sustainability Initiatives
Washington, DC: Retrofitted Municipal Roofs Mitigate and Adapt
Department of Energy: Cool Roofs