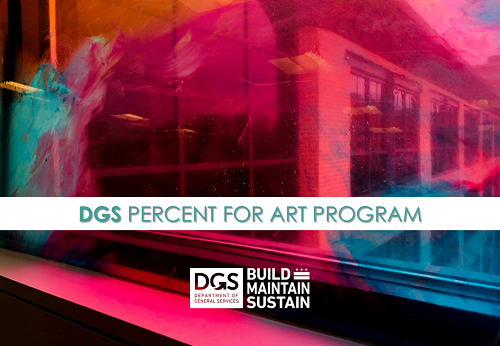 Artwork by Shan Shan Sheng
See our collections
Program Overview
The Department of General Services (DGS) manages a program that offers a unique way to infuse the creations from international, national and local artists into District-wide construction and modernization projects that the agency builds. The 'Percent for Art' program makes works of art accessible and visible throughout the District of Columbia, considered among the world's cultural capitals. DGS realizes that public art serves many purposes including as an expression of the community, a welcoming element on entering a facility and as a neighborhood landmark. Public sites, such as parks and recreation centers, provide an important setting for District residents, employees and visitors as a place to appreciate works of art outside of the traditional museum or gallery setting. Art from the DGS 'Percent for Art' program can be found in the District's real estate portfolio that DGS builds, maintains and sustains. The works are unique in that they are site-specific. The original pieces engage a variety of media including paintings, mosaics, glass, textiles and sculpture that are integrated in the design-phase of the DGS-managed facility. The 'Percent for Art' program commissions artists from all backgrounds reflecting the rich diversity of Washington, DC. These projects demonstrate how infused art can enhance civic architecture through a wide-range of public spaces. The term 'percent for art' refers to the 1% of the cost of large-scale construction projects being set aside to fund the commission of original works. The program allows District agencies, through DGS, the opportunity to acquire original commissioned works and/or restore existing art that is specific for District-owned buildings. By bringing artists into the design phase of construction projects, the District's community buildings are enriched.
History: DGS 'Percent for Art'
The Department of General Services (DGS) began the 'Percent for Art' program in 2013 as a vehicle to support the local creative economy and complement the agency's award-winning architecture with diverse and inspiring permanent works of art. Since its inception, DGS has commissioned nearly 500 works of art across the District, or approximately 75 new works of art per year. The District-DGS portfolio includes schools, shelters, parks and recreation centers and office buildings. DGS joins other District and federal agencies in recognizing the important role of art in the environment including DC Public Library, the DC Department of Transportation, the DC Department of Public Works, the DC Commission on Arts and Humanities, the General Services Administration (GSA) and the Washington Metropolitan Area Transit Authority Metro (WMATA) which also have very robust public art programs. Thus, we are honored to do our part to create a vibrant network of cultural resources in Washington, D.C. that support artists and enhance our built environment. DGS commissions range from large scale exterior sculptures, installations, suspended works of art, mixed media, paintings, illustrations, graphics, photography, furniture, even poetry. The program always reserves at least 50% of its commissions to DC artists or artists represented by DC galleries to ensure that District tax dollars are reinvested into the local community. In recent years however, DGS has averaged more than 70% of commissions to DC artists. Artists from outside the District of Columbia typically contribute to our local creative economy by working with local fabricators, printers, equipment rental outfits and installers. It's a robust community with some of these artists taking on emerging artists as assistants for installation and as apprentices. DGS has a profound and deep gratitude for the artists, architects, construction teams and community who contribute to each commission.
How to Get Involved:
If you have questions or need additional information, please contact 'Percent for Art' program manager Sandy Bellamy via email at [email protected].
To View Percent for Art Commissions, please click here.