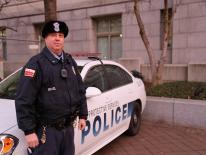 The Protective Services Division (PSD) provides 24-hour security and special police services that support District government operations, protection of employees, resources, and facilities. Building security is a large piece of keeping the District's employees and residents safe.
If your agency requires additional contract security or contract security in any capacity, please follow these steps:
Fill out the Additional Security Request (ASR) form
Send your completed ASR form to PSD via email at P

[email protected]

with "Additional Security Request" as the subject line
PSD will respond to your request within one business day
Send an email detailing the issue to

[email protected]

with "Contract Security" as the subject line
Or, call PSD's Central Command Center at 202-727-8031
For emergencies, please dial 911. All non-emergency calls can be directed to the Mayor's Citywide Call Center at 311.