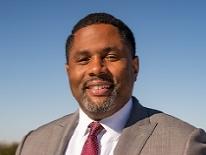 Delano Hunter is the Director of the DC Department of General Services. Director Hunter is a long-serving member of the Bowser Administration, serving in senior leadership roles in four different agencies. During his tenure at the Department of Parks and Recreation (DPR), Director Hunter managed a comprehensive recreation system with a combined operating and capital budget of $218 million, more than 1,000 employees, and a diverse portfolio of 104 recreation facilities, 930 acres of green space, and 212 fields and playgrounds. DPR served more than 2 million visitors annually through expanded programming and facility access and was ranked the best park system by Trust for Public Land in 2021 and 2022.
Before serving at DPR, he served as Chief Service Officer of the Mayor's Office of Volunteerism and Partnerships (Serve DC). During Director Hunter's time at Serve DC, the agency's federal grant funding increased by nearly 40%, and over 12,000 residents and stakeholders were engaged each year, participating in innovative emergency preparedness trainings, including Active Shooter Response, First Aid/CPR/AED, and the Community Emergency Response Team (CERT). Throughout Director Hunter's tenure, Serve DC's oversight of AmeriCorps DC was an essential agency responsibility. The nationwide service program addresses critical community needs, including increasing academic achievement, combating poverty, providing mentorships, and sustaining national parks.
Before his public service career in the District government, Mr. Hunter worked within the Retail Development Program for Nike Inc. in Beaverton, Oregon. While at Nike, Mr. Hunter co-founded the Nike Product Creation Experience (NPCE). The mentoring program enabled high school students to gain exposure to product development and marketing from industry professionals. In 2008, Mr. Hunter was recognized as the Nike Black Employee Network Person of the Year.
Mr. Hunter is a native Washingtonian and Spingarn Senior High School graduate. He attended Delaware State University, where he graduated summa cum laude with a degree in Business Management. Mr. Hunter went on to earn his MBA from the Johns Hopkins University Carey School of Business.
Contact Email: [email protected]