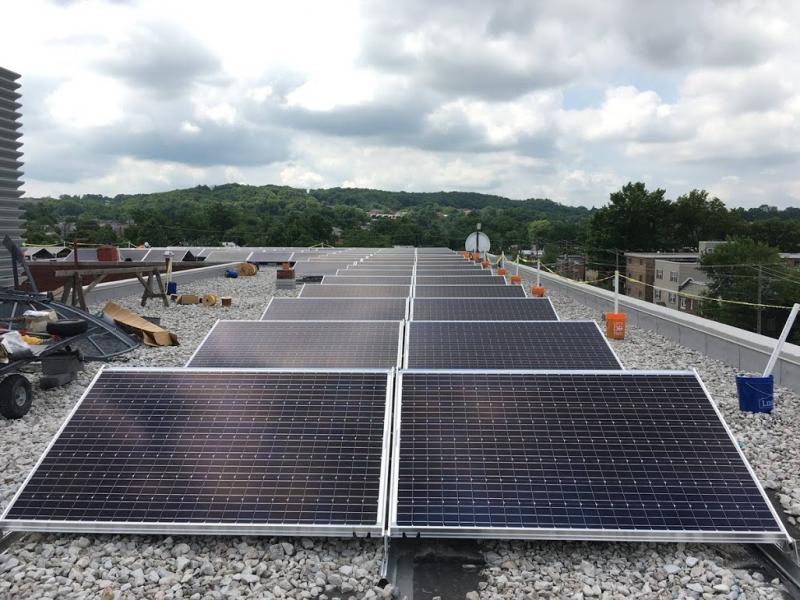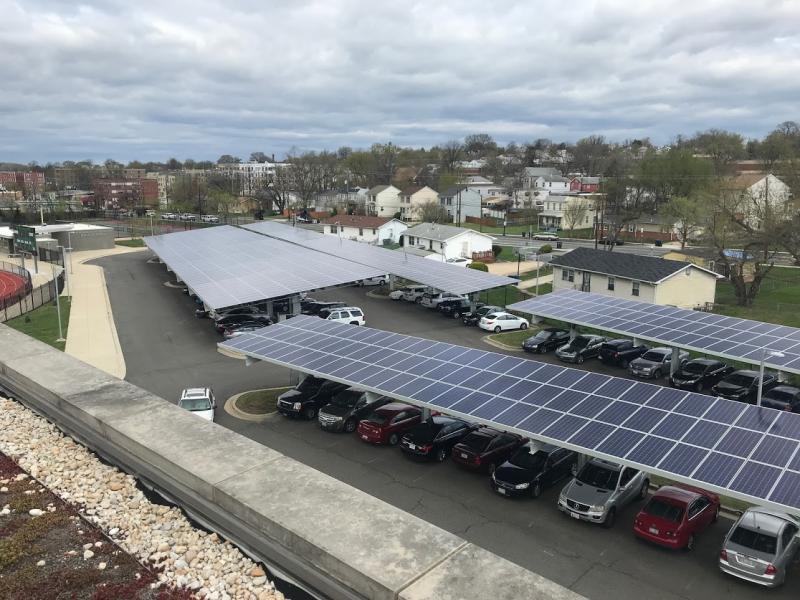 Solar panels installed at H.D. Woodson High School (Ward 7) are part of one of the largest on-site solar installations in the U.S.
20-year solar and wind power purchase agreements (PPAs); and
The purchase of renewable energy credits.
The District is rapidly scaling up its renewable energy portfolio. DGS sources 100% of its own operational electricity from renewable sources through:
The wind and solar PPAs are providing approximately one third of the District Government's electricity needs while cutting the government's carbon footprint by more than 110,000 tons each year. Combined with the purchase of renewable energy credits, the District purchases enough green power to cover 100 percent of its municipal electricity use,which equates to more than 470 million kilowatt-hours (kWh) through renewable energy certificates (RECs) each year. This is equivalent to greening the annual power supply of 44,000 average American homes.
As a result of the District Government's leadership, DC is a top-ranked community in the EPA's Green Power Community Challenge. As of April 2016, clean energy power purchases comprised 13.2% of all electricity sold in the District.
Wind:
After multiple years of development, District Government signed its first wind power purchase agreement (PPA) in 2015, which became one of the largest wind PPAs ever entered into by a U.S. municipality. The PPA sources wind power from Pennsylvania to provide 30-35% of DGS' electricity needs. Over 20 years, the PPA is projected to save District taxpayers $45 million, reduce GHG emissions by the amount equivalent to taking 18,000 cars off the road, and hedge against energy price increases and market volatility. Read more about this PPA here.
In recognition of DGS' groundbreaking wind PPA, the District received the prestigious C40 Cities Award for Global Leadership on Climate Change at the 2015 United Nations Climate Change Conference in Paris (COP21).
Related
Washington, DC – District of Columbia Wind Power Purchase Agreement (PPA)
BuildsmartDC: Wind Project
Solar:
In addition to the wind project, DGS-SE entered into two solar PPAs that will provide the District with 11-12 megawatts of electricity through onsite solar photovoltaic (PV) systems to be installed on the roofs and parking lots of District-owned facilities. The two solar PPAs make up the largest municipal on-site solar project in the U.S., and will supply an additional 3.5-4% of District government's electricity needs.
The PPAs are expected to save District taxpayers more than $30 million, catalyze $25 million in local spending, employ more than 190 people during construction, guard against energy price increases and volatility, and increase solar production in the District by more than 50%.
Related
* Mayor Bowser Kicks off #EarthWeekDC With One of the Largest Municipal Solar Projects in the Country at HD Woodson High School (April 17, 2018)
* Mayor Bowser Announces Largest Onsite Solar Project in US (December 1, 2015)
* BuildsmartDC: Solar Projects
Electricity Purchasing Strategy:
DGS-SE employs a Block & Index electricity purchasing strategy, wherein fixed rate blocks of electricity are purchased in advance, and the remainder is purchased on day-ahead and real-time electricity markets, for the DGS building portfolio's 800+ PEPCO electric accounts. The new strategy enables the agency to integrate large-scale wind and solar supplies, while saving 5-8% on generation and transmission costs. It stabilizes anticipated electricity costs, while mitigating long-term risk over the entire purchasing time horizon.