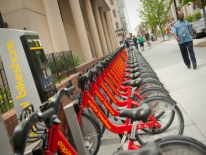 By James Partlow, IV, DGS Digital & Social Media Strategist
Great News DC Residents…! Today is "Bike To Work Day" meaning no matter who you are you should pull out your bicycle and ride with thousands to your work place. Biking to work is a great way to do your part to help elevate a more Sustainable DC, get some carefree exercise, and save money all at the same time.
History of Bike To Work Day
First, let's start with a brief history lesson of "Bike To Work Day."
Per the League of American Bicyclist, National Bike Month was started by the League, and 2006 marked the 50th anniversary. The event was timed to coincide with the arrival of warmer weather. It has inspired countless bike rides, safety inspections, commuter challenges, ribbon-cuttings, "share the road" promotions, and other varied celebrations of bicycling in communities across the nation.
One of the most popular activities in Bike Month, is encouraging people to bicycle to work and forsake their motor vehicles for just one day. Bike to Work Week is the third week in May, and the third Friday in May is designated as National Bike to Work Day.
The League was founded as the League of American Wheelmen in 1880. Bicyclists, known then as "wheelmen", were challenged by rutted roads of gravel and dirt, and faced antagonism from horsemen, wagon drivers, and pedestrians.
So… What Are The Benefits of Biking To Work?
Biking To Work Sustainability Facts
1. Reduce household emissions - Riding your bike to work rather than driving can cut down on your household emissions by at least 6%.
2. Reduce traffic - Cars produce .97 pounds of pollution per mile annually; bikes produce none. Bikes are also up to 50% faster than cars during rush hour.
3. Takes less to make a bike - Bikes take far fewer natural resources to make than cars, the production of which generates 1.2 billion yards of pollution each year.
4. Saves entire forests - Far less rubber is involved in making bikes and their tires, which helps prevent the clearing of forests for rubber plantations.
5. Combats noise pollution - Not only does riding a bike help combat noise pollution, which affects wild animals, but results in less road kill, too.
6. Keeps land free for nature - 20 bikes can fit in the space of one car, so if more people rode them, we'd need to clear less land for parking lots.
Biking To Work Health Facts
1. People who bike to work have better blood pressure, insulin levels, and triglyceride levels.
2. Depending on your weight, you can burn between 215-500 calories during a 30-minutes bike ride.* (*Based on a 10 mph pace (average commuter pace). The actual calories you burn while riding depend on your weight, fitness level, speed, number of hills, etc.
3. People who bike to work have reduced tiredness and less difficulty sleeping.
4. Just 3 hours of biking per week can reduce your risk of heart disease by 50%.
5. People who bike to work believe their health has improved since they started commuting by bike.
6. The average person loses 13 lbs. in the first year of commuting by bike.
7. Each additional hour spent in a car per day is associated with a 6% increase in the likelihood of obesity.
8. People who bike to work have higher levels of well-being, self-confidence, and stress tolerance.
9. People who bike to work report greater feelings of freedom, relaxation, and excitement than car commuters.
10. 33,000 people die each year in car crashes but only 667 - while still a lot - are killed while riding a bike, making it much safer.
Biking To Work Cost Savings Facts
1. For obese workers, being physically active* 1-2 days a week lowered healthcare costs by $400-$500 per year. (*Physical activity was defined as at least 20 minutes of exercise that increases heart rate and breathing.)
2. The average annual operating expense of a bicycle is just $308, versus more than $8,000 for a car.
3. Helps support local businesses - When you ride a bike, you're more likely to keep your trips shorter and your shopping closer to home, which is great for local business.
The Department of General Services encourages you this year to bike to work more than you did last year so that we can build a better District; not only through our buildings and facilities but through our cycling as well. Did you like this article? If so, SHARE IT with a friend today!
Sources:
What would you like to read about on the DGS Blog? Let us know.