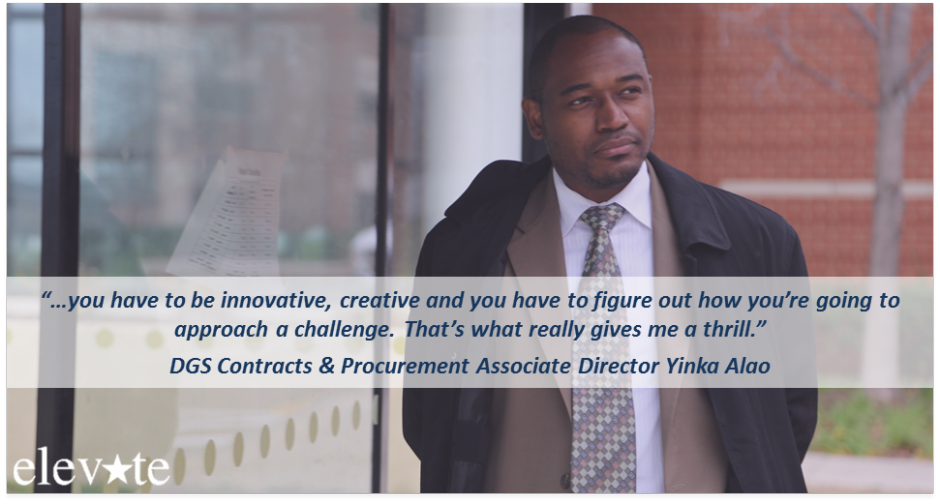 Employee Spotlight Q&A: Yinka Alao | By: Simone Andrews, DGS Senior Web Editor
The Department of General Services (DGS) is pleased to welcome Mr. Yinka Alao as the new Associate Director for Contracting and Procurement. We sat down with Mr. Alao to have a one on one to find out how he's adjusting to life in the Contracts and Procurement Division. Check out his short Q&A session!
What brought you to DGS?
"The challenge! I've been in city government going on 10 years now. While I enjoyed my previous assignment at the Office of the Inspector General, I was really excited about the possibilities here. DGS is a large, complex organization where I thought I would definitely be able to use my problem solving skills."
How long have you lived in the District of Columbia?
"I moved to the DMV area in 2001 permanently and I've been working in the District since then. All of my children were born during my tenure as a district government employee."
Where were you born? (if in a foreign country, how long have you lived in the United States?)
"I'm a naturalized U.S. Citizen but I'm originally from Nigeria. I left Nigeria when I was two years old. My first stop was Michigan, the Upper Peninsula. I then moved to East Lansing. Spartan blood runs through my veins."
What is your favorite food?
"Whatever is placed in front of me! Red Bull is my drink of choice and I think it is what I probably consume most."
Name two of your favorite hobbies.
"I love watching sports, particularly basketball, football and soccer. I really enjoy the team dynamics that go into developing a game plan. I also really enjoy taking walks and just being out in nature."
What are three unique facts about yourself?
Played the violin from age 6 to 9. I still have the violin that my dad bought me over 25 years ago.
I went to boarding school from age 11 to 16. I only spent about 10 weeks a year at home. That's where I learned to be independent. There was a lot of structure -- almost military style.
I have lived, worked and studied on three continents.
If you could choose any animal to be, what would it be and why?
I'd be a wolf. Wolves are excellent communicators and fairly sophisticated. There is cohesion, they're evolved when it comes to communicating and all of that sort of ties into my approach to work and life. A focus on the collective and through the collective, achieve objectives in an efficient way.
What do you look forward to most when you walk into work?
"The thrill of engaging people and solving problems. There's always something in Contracting and in order to overcome some of those challenges, you have to be innovative and creative and you have to figure out how you're going to approach a challenge. That's what really gives me a thrill."
What is one thing you're hoping to enhance about the Contracting and Procurement Division?
"Operationally, I want C&P to get to a point where we can anticipate the needs of our customers without breaking a sweat. I want us to get to a point where we are predictive. Developmentally, I really want to be in a position where I see successive layers of leadership being built so that when my time is done there is a real possibility that my successor is already in the ranks."
What makes you most proud to work for DGS, more specifically Contracting and Procurement?
"I didn't know what I was walking into but the fact that I am here working with very talented people makes me most proud. Within a few hours of arriving I looked out on the floor and I said wow, there is so much talent here. The opportunity to work here in such a complex business, for me, is what makes me most proud."