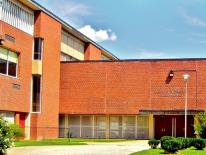 Project Overview
Ron Brown College Preparatory High School will be a newly renovated school in the existing Ron Brown Middle School.

The modernization will include selective demolition and major renovation of the academic and multipurpose wings of the building.
Project construction will be phased. Phase 1 opening August 2016, will include a complete modernization of the first floor - administration offices, classrooms, library/media center, multipurpose space and cafeteria. Phase 2, opening July 2017, includes the modernization of the second and third floors - additional administration offices, remaining classrooms, auditorium with support spaces and gymnasium with support spaces.

During Fall 2016, an inaugural class of 100-150 freshman men will be enrolled and the school will expand one grade level each year at the same student body size. Full capacity is estimated to be 500-600 students by Fall 2019.
Project Details
Ron Brown College Preparatory High School Project
Location: 4800 Meade Street, NE
Ward: 7
Architects: Perkins Eastman DC
Design-Build Team: Gilbane Building Co.
DCPS Project Manager: Toussaint Webster
DGS Project Manager: Mia Sensabaugh
DGS Contact:
Jackie Stanley
Start Date:
Phase 1 Spring 2016; Phase 2 -- TBD
Project Completion: Phase 1 --August 8, 2016; Phase 2 -- Summer 2017
Status: Design Development
Ron Brown College Preparatory High School Modernization Presentation for DCA (May 23, 2016)
For more information on this project visit our DCPS Partner's Project Page: Click Here
Related Information