Friday, April 22, 2016
Story courtesy of the DC Department of General Services
On Earth Day, the DC Department of General Services (DGS) released the DCPS Recycles! Honor Roll 2016 recognizing 47 schools for enthusiasm and excellence in recycling.
Van Ness Elementary School, in District's Ward 6, is one of 23 schools honored "with distinction" for exceptional performance in recycling. Inspired by the success of C.W. Harris Elementary School (Ward 8) in managing breakfast waste, the DCPS Recycles! program and the newly re-opened Van Ness Elementary School piloted the first ever whole-school model for organics recycling inside early childhood classrooms. The DCPS Recycles! program is excited to share some of the best practices learned through Van Ness' efforts: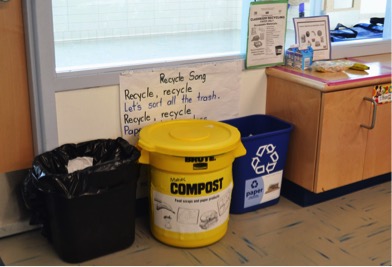 This waste sorting station, comprised of a trash can, blue paper recycling bin, a yellow compost bin, and a spot on the counter dedicated for whole, uneaten foods, sits in Mrs. Braxton's Pre-K 4 classroom.
Through our recycling program, students have learned how to truly care for the world in which they live. After completing the 'Reduce-Reuse-Recycle' unit of study, the children were familiar with the concept of reusing materials and reducing waste, but their theoretical understanding was deepened with daily opportunities to apply and practice through our recycling and composting program. This has been an invaluable learning experience for our children, who now remind us not to simply throw food or other objects away and to instead discard of them in 'the right way,'" notes Principal Cynthia Robinson-Rivers.
During mealtime in all Van Ness classrooms, you will find students separating their leftovers into either a compost or trash bin. Students utilize their classroom's waste sorting station, complete with a clearly marked trash can, blue paper recycling bin, a yellow compost bin, and a spot on the counter dedicated for whole, uneaten foods, in order to help reduce the amount of trash that they generate. Pre-K 4 teacher Ms. Alva Braxton notes that "our children are having fun sorting real life materials while making the world a better place!"
Van Ness students have learned how to utilize their waste sorting station correctly with a little practice and through participation in the DGS-sponsored DC Recycle Right! Competition. During the DC Recycle Right! Competition, Van Ness formed a recycling team, comprised of one student from each class, to conduct weekly classroom recycling bin surveys in which students counted the number of recycling and trash bins used correctly and incorrectly. By participating in the competition, Van Ness improved their recycling bin correctness by 20 percentage points, earning them "Honorable Mention" in the Most Improved awards category of the competition.
Van Ness also took steps to reduce – not just recycle – food waste. Ms. Braxton's Pre-K 4 classroom used the slogan, "Try it--you might like it," to encourage one another to try new foods. This simple no-cost strategy provides an easily replicable solution that the DCPS Recycles! program can now recommend to other schools.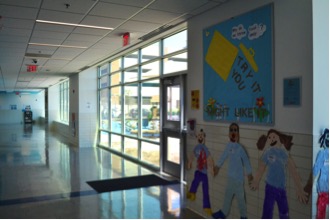 The "Try it - you might like it!" poster, a reminder for students to try food before throwing it away, is displayed in the Van Ness main hallway
Van Ness is the first school to try this school-wide classroom organics collection model, and it has benefited the school in more ways than originally planned. By piloting this program, creating a Green Team made up of various school staff, and utilizing the competitions to strengthen its recycling program throughout the year, the school has not only reduced its waste but has also enhanced the school's culture as a whole. When asked how he felt about the new recycling program, Van Ness' Building Foreman Paul Mullings said, "Initially I was against the idea of recycling in a space with limited facilities...but throughout the process of trials and accomplishments I must say - recycling works! And our teacher and maintenance collaboration is so much better. It has drawn us together."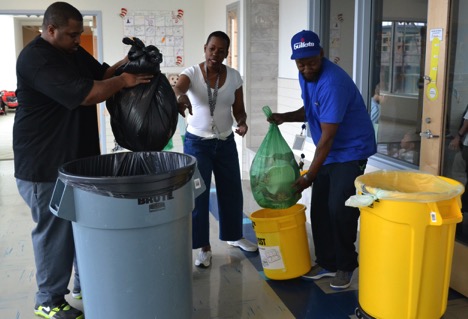 Mrs. Alva Braxton discusses Van Ness' recycling program with the school's maintenance staff, Mr. Paul Mullings and Mr. Sheldon Jules.
In August Van Ness students and staff will be welcomed back to a completed, modernized school building. Thanks to the successful pilot, Van Ness is poised to become the first modernized DCPS school to open with an organics recycling program that covers the entire building!
To learn more about the DCPS Recycles Program see http://dgs.dc.gov/page/healthy-schools