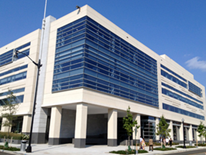 Project Overview
This project was redevelopment the long vacant Washington Star printing plant at 200 I Street, SE, formerly known as 225 Virginia Avenue, SE, as tenant space for various District agencies.
Previously, this large property in the Capitol Riverfront area was redeveloped as a data center, but the property was never occupied. The District originally leased the property for MPD functions but redevelopment costs proved too high to justify under the lease agreement.

In a bold move, the building was purchased by the District in 2009. Stonebridge Carras redeveloped the property through a lease-leaseback transaction, saving District taxpayers more than $60 million over the previous arrangement and providing the District with unencumbered ownership of the facility at the end of a 20-year lease.
The new building is double LEED Platinum certified (Core Building and Interiors) and includes a ground floor public gallery showcasing the vast art collection of the DC Commission on the Arts and Humanities.
Project Details
200 I Street, SE Redevelopment Project
Providing Agency: Department of General Services
Status: Completed
Type: Renovation/Modernization
Actual Budget: $110 Million
Project Manager: Gbolahan Williams
Green Features:
LEED Platinum Certified: Core Repurposing
LEED Platinum Certified: Interiors
Won Several Construction and Real Estate Industry Awards
Current District Agencies in the Building
Child and Family Services Agency (CFSO)
Office of the Chief Technology Officer (OCTO)
DC Commission on Arts and Humanities (DCCAH)
Office of Motion Picture and Television Development (MPTD)