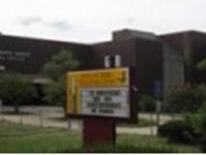 Program Overview
The District has designated certain schools to be reused by District agencies in order to streamline its portfolio of owned and leased space and to leverage existing assets to the benefit of the residents of the District. All proposed work consists of interior modifications to meet life safety and accessibility standards and to upgrade mechanical and electrical systems.
P.R. Harris Project Education Center Repurposing Project
Project Overview
The large gym at P.R. Harris Education Center was selected to house the Fire & Emergency Medical Services (FEMS) Candidate Physical Agility Testing Center (CPAT). This new facility enables FEMS to test and train new recruits as well as provide rehabilitation programs for employees on disability leave.
Project Details
P.R. Harris Project Education Center Repurposing Project
Ward: 8
Type: Renovation/Modernization
Design: Completed
Construction: Completed
Status: Completed
Budget: $1,300,000.00
Project Manager: Aayei Hargrove