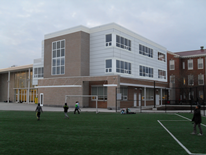 Project Overview
The modernization of Janney Elementary School was completed in August, 2011. Substantial enrollment increases since 2011, however, have required repurposing of space to accommodate the current school enrollment. The proposed 11,044 sf two story Addition consists of six classrooms to align with the enrollment projections of the school; additionally, the repurposed spaced will be recaptured for its original intended use. The addition is to be constructed on top of the one story portion of the 2011 building Addition at the back of the school. The Addition construction will begin during winter break December, 2013 and will be completed for the beginning of the school year in August, 2014.
Project Details
Janney Elementary School Addition Project
Ward: 3
DGS Project Manager: Tom Henderson
Builder: Thompkins
Substantial Completion Date: 8-15-14
Budget Estimate: $4,850,000
Status: Completed August 2014
LEED Goal: Maintain the Gold Certification of the 2011 School Modernization
Note: More information will be posted as it becomes available.
Project Update August 2014
Update of July Site Activities
During the month of July, Tompkins Builders made significant progress on the interior of the building.
First floor pre-k room footers were poured and structural walls were framed, roughed-in, inspected and closed-in.
Concrete slabs have been poured on the 2nd and 3rd floors.
Exterior metal panel installation started.
Mechanical, Electrical and Plumbing rough-in is complete and fixtures are being installed.
Ground face block installation is complete
Painting has started
Flooring and ceramic tile has started
Look Ahead
The project will reach substantial completion on August 15, 2014 in preparation for the first day of school on August 25th.
Exterior metal panels will be completed
Furniture will be delivered and installed
All flooring will be complete and heat welded
SMART Boards will be installed
Toilet partitions and accessories will be installed.
De-mobilization of the tower crane will take place in early August.
Final clean-up and de-mobilization of construction activities.
Related Information