Project Description: The project will build a new Congress Heights Recreation Center that will include enhanced amenities such as a gymnasium, kitchen, flexible computer lounge, and multipurpose spaces. The project will also replace the existing playground and include additional park space improvements.
We are happy to announce that the Congress Heights Survey is now open for participation. Thank you in advance for taking the time to share your feedback as the DC Department of Parks and Recreation gathers information on Congress Heights' interests. By clicking on the link below and sharing your thoughts, we can better understand your requests for offerings at your new facility and park!
Congress Heights Survey: https://www.surveymonkey.com/r/MR58QWG
Please share this link with your neighbors and anyone who may have an interest in the Congress Heights Recreation Center and park. The survey will remain open until 11:59 PM on July 31, 2019. We will share the results of the survey at our next community meeting (specific date still to be determined). Please note that we will also place paper copies of the survey at the recreation center in order to maximize community participation.
Address: 611 Alabama Avenue, SE
Ward: 8
DPR Project Manager: Peter Nohrden
DGS Project Manager: Diego Martinez
Status: Design
Project Delivery : Construction Manager at-Risk (CMAR)
Architect: R. McGhee & Associates and Hughes Group Architects
General Contractor: TBD in 2020
Current Budget: $21 Million
Start Date: Spring 2019
End Date: Spring 2022
DGS Contact: Wayne Gore, John Stokes (Associate Director-External Affairs)
Congress Heights Recreation Center and Park Community Meeting (January 23, 2020)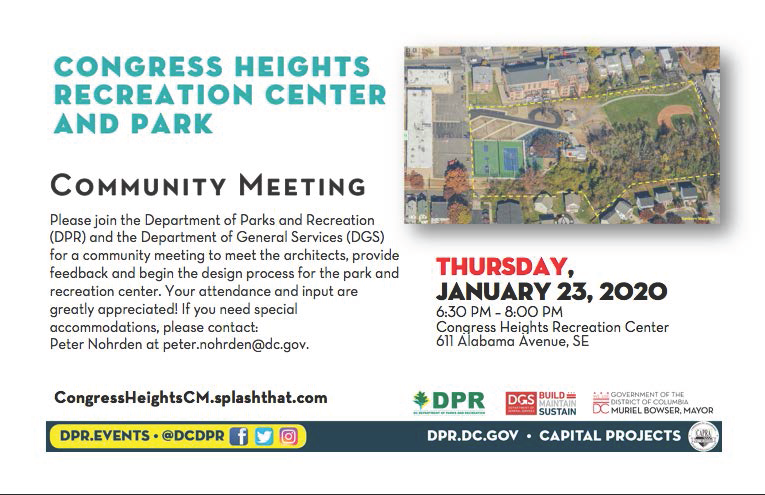 Congress Heights Recreation Center First Community Meeting Presentation (March 26, 2019)
Congress Heights Recreation Center and Park Community Meeting