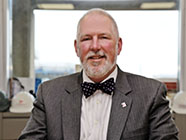 DGS Team – I count amongst my many blessings the opportunity to serve the District alongside you and am mindful of these during this Thanksgiving holiday which begins a season of preparation, busyness, and joy. Sometimes the latter is more difficult to sense especially since our day to day lives are complicated and filled with responsibility at work and at home.

Please take a moment and know that what you and how you do it matters greatly to our City. Whether it's opening a new playground or a school, fixing the heat, securing a building, or simply picking up a mess, what you do positively impacts the lives of every day people….every day.

Please know this Thanksgiving how grateful I am for all of the DGS team and what you do to elevate the quality of life for our City.

Thank you and have a Joyful Thanksgiving.
Brian J. Hanlon
Director, Department of General Services