The DGS Energy + Sustainability Division (DGS-SE) is responsible for certifying and monitoring energy and utility use for all 77 government agencies. In total, utilities for the District's buildings, including electricity, natural gas, and water, cost over $80 million a year.
The capture, analysis and dissemination of data related to utility use in properties owned and leased by the District of Columbia is a critical component of DGS-SE's energy conservation and cost reduction measures.
BuildSmartDC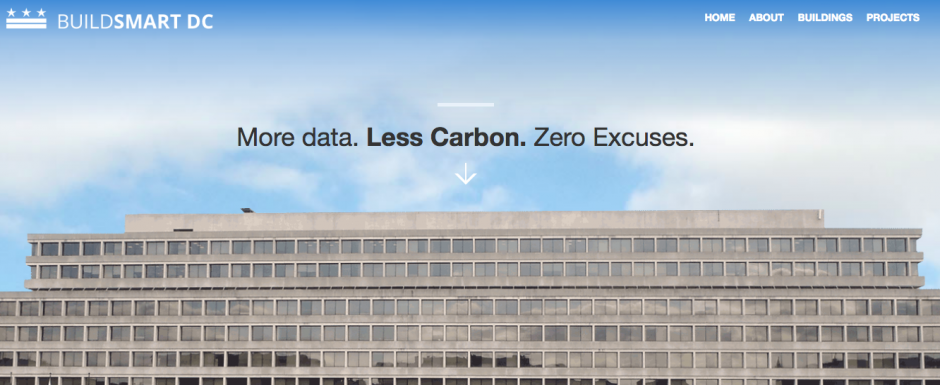 BuildSmartDC is an interactive platform for exploring the District's building portfolio, with a focus on building energy performance. DGS-SE developed this site to make energy data publicly available and easily digestible. BuildSmartDC integrates data from a variety of sources: utility bills, meters, weather stations, analytical engines, building automation systems, contractor reports, maintenance reports and more. It is updated daily.
In addition to building-by-building utility data, BuildSmartDC also highlights energy efficiency projects across the District. Moreover, the platform serves as the basis for data-driven decision making in other DGS-SE energy management programs.
DGS-SE also maintains a building information dataset that includes basic building characteristics like name, usage type, address and square footage. Electricity interval data is provided to DGS-SE by Pepco via an API, which delivers meter-level data in an XML format called "Green Button". With this data in hand, building managers can better respond to anomalies, retrofits can be scoped and monitored with precision, and occupants can see their energy use (and savings) virtually real-time. Most critically, clear operational inefficiencies — specifically, energy use during non-occupied times — can be easily identified and addressed.