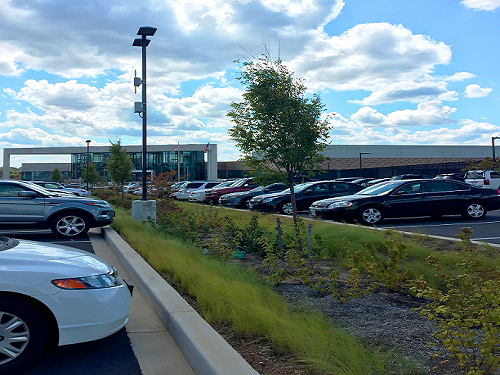 Vegetated swale for stormwater retention at Ballou High School (Ward 8)
DGS is working to prioritize Low Impact Development (LID) stormwater management practices that limit the strain on municipal systems, help recharge local aquifers and reduce the quantity of pollutants entering the Potomac and Anacostia Rivers. LIDs are innovative stormwater management practices designed to mimic a site's predevelopment hydrology cycle to help infiltrate, filter, store, evaporate, and detain runoff close to its source. LID techniques are not only applicable to open space, but also rooftops, streetscapes, parking lots, sidewalks, and medians.
Many of the new construction projects are incorporating increased stormwater management techniques into their building and site design. Several New Construction LEED buildings under design and construction have incorporated the use of techniques such as bio retention ponds, dry wells, grey water reuse, infiltration trenches, vegetated swales, cisterns, filter strips, sand filters, and others.
The DGS Existing Buildings and Small Projects: Sustainable Design Guide has further prescribed various strategies that DGS projects can use to protect water as a resource and allow the District's natural hydrological cycles to be sustained in a consistent and healthy manner.
Green Roofs
Green Roofs are a critical component of DGS efforts to lower energy consumption of buildings, reduce the heat island effect throughout the city, increase the retention and filtration of rainwater on District property and restore local habitat. In FY'15, DGS-SE managed the construction of six green roof projects, bringing the portfolio's total above 320,000 square feet of vegetated roof area.
A green roof is partially or completely covered with vegetation and soil, or a growing medium, planted over a waterproofing membrane. Green roofs support the City's vision for restoring the Anacostia by reducing storm water runoff. During heavy rains, storm water run-off can overburden the sanitary sewer system and lead to raw sewage overflows to the river. Green roofs absorb rainwater, preventing it from entering the waste water system. In addition, green roofs perform an insulating function, which reduces the energy demand of buildings and thus reduces our greenhouse gas emissions.