Washington, D.C., has put all its forensic tools in one basket—the Consolidated Forensic Laboratory—to create faster, more efficient service to the District.
Media Contacts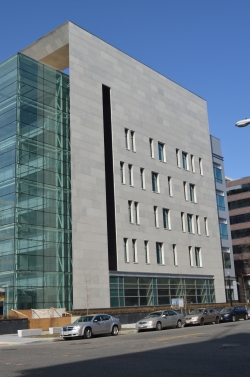 The new Consolidated Forensic Laboratory (CFL) in Washington, D.C., looks to become a model in forensic laboratory design and planning. Combining the Metropolitan Police Department's (MPD's) forensics labs with the D.C. Public Health Laboratory and the Office of the Chief Medical Examiner (OCME), the CFL creates a unique multiuser facility for the District. "Not only are there operational advantages to having these different forensics organizations co-located in the same facility, but there are additional work-flow advantages," says Tim O'Connell, project architect at HOK, Washington, D.C. "These groups could all be working on one case together and having them all in the same building is exceptionally valuable and could make their processes very efficient."
Sustainable by Design
The CFL is unique in a number of aspects including overall sustainability, forensic diversity, design functionality, and operational efficiency. HOK was contracted by the District to create a LEED (the U.S. Green Building Council's Leadership in Energy and Environmental Design criteria for construction sustainability) Silver building, but the administration had a strong desire to be even more sustainable. "So the building is actually LEED Gold and it's only three points away from LEED Platinum," says O'Connell. "We exceeded everyone's expectations, and we're very proud of that."
Because of the urban context, HOK designers were able to get almost all of the site credits from a LEED point of view. There's public transportation nearby-a DC Metro stop is just two blocks away. "There are lots of DC initiatives including fleet shares and car sharing that allowed us to reduce the overall parking space," says O'Connell. "The district heavily supports all their employees commuting by public transportation."
One of the unique designs that they didn't get any credits for was the negative storm water runoff. The building has a green roof that was designed for both storm water management and energy savings. All the storm water runoff from the hardscape is collected on site and goes into a cistern. That cistern in turn feeds the cooling tower makeup water with the hope that it will save about 2 million gallons of water per year, resulting in direct money savings. This is a cost effective technique as unreclaimed storm water needs to be extensively treated, generating maintenance issues and their severe cost implications. The negative runoff is created with LIDs (low impact design) tree pits. Some of the tree pits on the E Street side of the CFL actually act like bio-soils, little bio-retention ponds that take storm water runoff from the street and collect it in an effort to recharge the watershed, hence the negative runoff effect.
There are also a number of designs incorporated into the building to control or reduce the solar heat gain. "It has a tight and energy efficient skin, but the big story is the energy savings we achieved," says O'Connell. "We were able to achieve a 30% energy savings over the standard ASHRAE (American Society of Heating, Refrigerating, and Air-Conditioning Engineers) model. And that's unique for a lab building in general, but especially for a lab building like this."