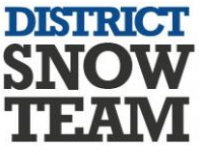 What role does the Department of General Services (DGS) have in the removal of snow in DC?
The mission of DGS is to ensure that schools, shelters, recreation centers, parks and District administrative facilities are able to provide continued government services to District residents – with minimal disruption. DGS is responsible for maintaining 841 properties in the District which includes coordinating snow pretreatment and the removal of snow and ice from these facilities.
Which DC municipal buildings and facilities are cleared of snow first?
DGS considers all of its managed properties as very important. However, during a winter storm event, it is imperative that emergency service personnel, hypothermia centers, shelters, public schools and OSSE bus lots are cleared. These comprise the DGS Priority 1 locations during a snow storm. Priority 2 locations include senior wellness centers, recreation/community centers and remaining government buildings. The DGS Priority 3 locations include pocket and triangle parks, playgrounds and dog parks and vacant properties.
What are the resources of DGS for city-wide snow removal?
DGS has three city-wide contractors in place for snow removal and eight contractors for supplemental shoveling services on a 'surge' capacity. The DGS Facilities Management Division (FMD) staff are designated as essential employees are deployed to support event efforts. In-house teams perform supplemental snow services as required. All essential HVAC personnel report to work and monitor systems to ensure there are appropriate heating levels in facilities and they respond to outages.
How quickly does DGS mobilize for snow removal?
Snow removal contractors and the FMD mobilize the DGS snow program within three (3) hours from the decision to deploy. A standard service cycle is typically executed within 12 hours for our Priority 1 and 2 sites. Accelerated options are available at the discretion of DGS.
For more information on District-wide snow removal, go to http://snow.dc.gov