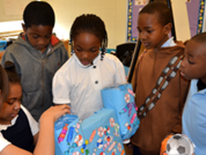 By Brooke Hartman, Schools Outreach Specialist
DGS is proud to share this DCPS Recycles! Honor Roll Success Story from Seaton Elementary School!
At Seaton Elementary School students have participated in creative, hands-on projects that emphasize the importance of not only recycling, but reusing materials as well. This year, third grade teacher, Brittany McAllister organized a team of students that ensured their school's new recycling bins were clearly labeled so that students and staff know what materials are acceptable for each bin. These students now collect the recyclables from classrooms around their school building every week. McAllister has noticed numerous benefits from the creation of this recycling program, noting that "the recycling team has helped build our classroom community, it has given my students the opportunity to give back to our school community, and it has helped my students understand the importance of recycling."
To further her students' understanding of resource conservation McAllister created a "Reuse Challenge" in which they reused discarded recyclable materials, such as plastic water bottles, milk cartons, and bulletin board paper, to create new products. The result of their challenge? A sporty "piggy bank," a creative candy dispenser, a fierce rescue jet, and a flashy rocket ship. "The reuse challenge has inspired [my students] to find multiple uses for items in an effort to minimize waste not only at Seaton but at home as well," said McAllister.
If you have any questions or media inquiries, please contact:
Kenny Diggs, DGS Director of Government Affairs and Communications
Phone: (202) 580-9361
What would you like to read about on the DGS Blog? Let us know.