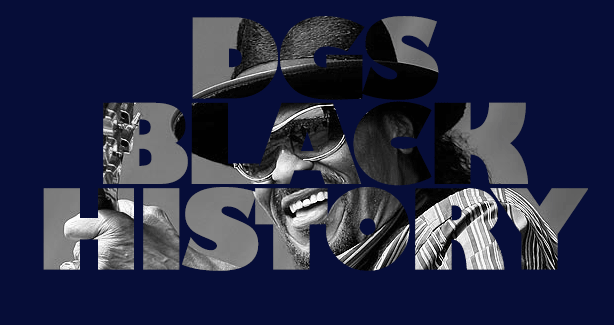 DC People & Places: Black History Spotlight - Chuck Brown Memorial Park | By: James Partlow IV, DGS Digital & Social Media Strategist
In celebration of Black History Month, we are spotlighting recent Department of General Services (DGS) construction projects that are named after significant Black History People & Places in the District of Columbia, our nation. The third project that we will highlight is the Chuck Brown Memorial Park in Ward 5.
Project Summary
The Chuck Brown Memorial Park is a new and exciting location that truly honors the memory of one of DC's greatest legends, Mr. Chuck Brown.
The park consists of a memorial wall honoring Mr. Brown's life and achievements and an abstract sculpture that marks the entrance to the park and signifies the "call and response" associated with the go-go music that Mr. Brown pioneered.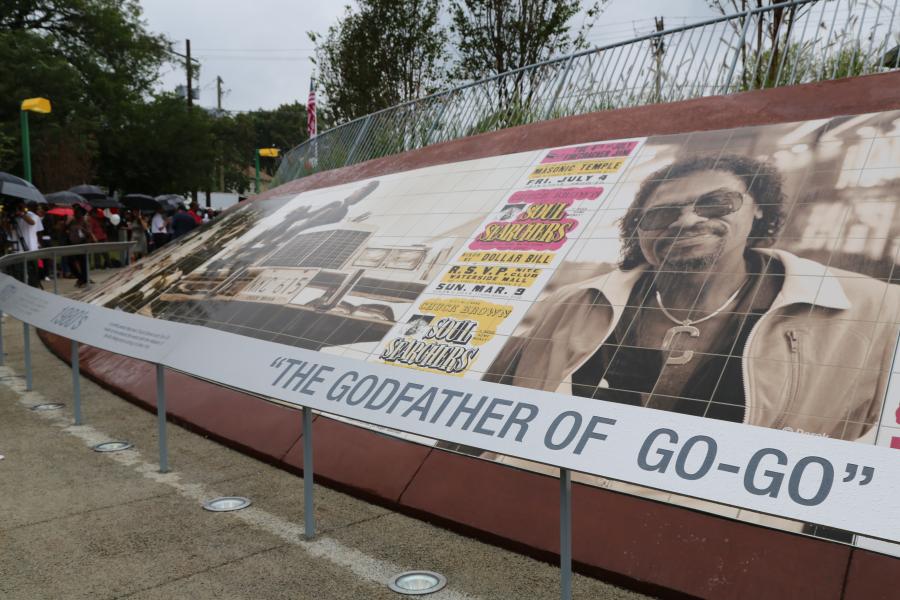 The memorial wall is sloped and made of colored concrete with images of Mr. Brown on high quality ceramic tiles. These images will be about 8-12 feet in height. At the southern side of the memorial there is a smaller wall of colored concrete with 2 metal panels that lists the musical contributions of Mr. Brown (discography panels).
The main wall and the discography wall is separated by a stairwell that connects the existing playground area to the new informal performance plaza area along the east end of the site. The plaza is constructed of pervious pavers with a seating area of turf-grass. To the west of the new wall there is an interactive instrument area with 5 drums that can be played by visitors.
The site also contains bio-retention areas with varied landscaping and other site amenities including seating, trash/recycle bins, game and picnic tables.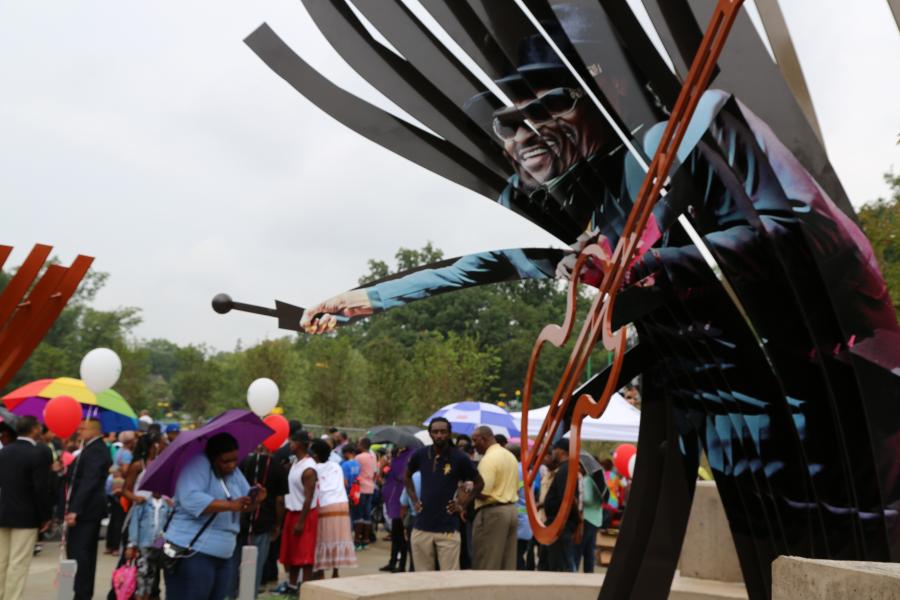 The sculpture consists of three abstract representations; one of Mr. Brown and two dancers. The three pieces are located within two circular areas (a stage and a dance floor respectively) that are enclosed by short bench walls. The overall piece is interactive and allows the visitor to experience the go-go "call and response" through LED lights that are activated through motion pads and/or motion sensors throughout the piece.
Project Details
Location: 18th/20th Franklin Street, NE
Ward: 5
Architect: Marshall/Moya Design
General Contractor: Broughton Construction, Inc.
LEED Level: Bio-retention rain gardens, and permeable pavers
Start Date: April 12, 2014 (this is the date demo began)
End Date: August 2014
Status: Completed
Project Manager: W. Keith Jones
Construction Agency: DGS
To learn more about DGS' recent construction project at the Chuck Brown Park.
Fun Facts About Chuck Brown
Singer and guitarist Chuck Brown was born on August 22, 1936, in North Carolina
"Godfather of Go-Go," a sub-genre of funk music
Began playing guitar with Jerry Butler and The Earls of Rhythm in the early 1960s
Joined Latin-American band Los Latinos.
Hit songs include "I Need Some Money" and "Bustin' Loose"
To learn more about DGS' recent construction project at the Chuck Brown Park.