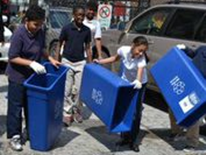 By Brooke Hartman, Schools Outreach Specialist
DGS is proud to share this DCPS Recycles! Honor Roll Success Story from Ross Elementary School!
At Ross Elementary School fifth graders get the opportunity to show off their dancing skills every week while participating in the school's recycling program.
The Ross Recycling Team, comprised of fifth grade students, is responsible for collecting the recyclables from around the building and putting them in the correct dumpsters outside. While doing so students are left with the unfortunate task of cleaning the bins that collect recyclable drink containers, which often leak liquid into the bins. In order to turn the task of cleaning into something more enjoyable, ESL Instructor Jennah Mazour, the Recycling Team supervisor, has created a team protocol that allows students to use the outside water spout themselves and then "dance" with the recycling bins to rinse the entire surface area of the bins.
During their "Recycling Bin Dance" students hum along to their special recycling song, twisting, turning, and twirling their partners (the recycling bins) to ensure the water cleans the bins thoroughly. After their dance the students dump the water and return the bins to their proper locations in the building. The students are eager to participate in this program because it gives students a sense of responsibility while also turning a task into an enjoyable activity.
If you have any questions or media inquiries, please contact:
Kenny Diggs, DGS Director of Government Affairs and Communications
Phone: (202) 580-9361
What would you like to read about on the DGS Blog? Let us know.