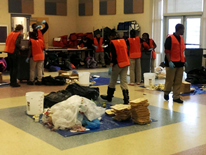 By Brooke Hartman, Schools Outreach Specialist
DGS is proud to share this DCPS Recycles! Honor Roll Success Story from Walker-Jones Education Campus!
When students are tasked with conducting a waste audit, it's amazing how quickly the sounds of groans turn into giggles as students sort through their school's trash. What sounds to many like an off-putting task turns into a fun learning opportunity for the students (and the adults!) involved. At Walker-Jones Education Campus, sixth grade students helped DGS conduct a waste audit of a day's worth of kitchen and cafeteria waste, sorting their trash into different waste streams to collect and analyze the amount and types of waste coming from their school lunches.
Thanks to the cooperation of Walker-Jones kitchen and custodial staff DGS was able to collect all the waste from the kitchen and cafeteria that day for the students to sort in teams on tarps. Students were able to see their waste in a new way, and understand the importance of the organics collection program in their cafeteria. This visual, hands-on activity gave students a glimpse into how much is wasted every day, and the data they helped collect has given DGS data to reference. What these student scientists have found through their waste audit has helped shape the organics collection program rolling out to all DCPS schools next year!
If you have any questions or media inquiries, please contact:
Kenny Diggs, DGS Director of Government Affairs and Communications
Phone: (202) 580-9361
What would you like to read about on the DGS Blog? Let us know.