DCPS Recycles! Celebrates Success Stories from 2016-2017
The DCPS Recycles! program is proud to celebrate this year's recycling successes from all eight wards. By working with schools across the District, DCPS Recycles! is shifting towards reducing waste first, then recycling right when it comes time to sort. Read about some of this year's highlights below, and check out our interactive maps to learn more details about each school's participation in the DCPS Recycles! program.
Thank you to all staff and students who recycle right every day!
55 DCPS Recycles! Honorees
Congratulations to the fifty-five schools that made the DCPS Recycles! 2017 Honor Roll, including 25 schools that were honored with distinction. All schools on the Honor Roll are consistently recycling paper in classrooms or food waste in the cafeteria. Those honored with distinction have programs that sort and collect paper throughout their buildings, as well as sort and collect cardboard, mixed recyclables, and organics in both the kitchen and the cafeteria.
Special congratulations goes to:
● Burroughs Elementary School (Ward 5), this year's DCPS Recycles! 2017 Success Story, for creating a culture of global citizenship at their school focused on engagement through recycling. Burroughs leadership, operations team, educators, and students worked together with their Foodcorps service member to initiate an innovative school-wide collection system and roll out organics recycling in both the kitchen and cafeteria. WATCH THE VIDEO about their success.
● Cardozo Education Campus, the first DCPS high school to earn Honor Roll with distinction. The success of their program has been driven by a few teachers and the student Green Team, which allows students to receive service hours for collecting recyclables around the building.
These 4 schools made the Honor Roll for the first time this year:
Malcolm X Elementary School
Wheatley Education Campus
Eastern High School
Drew Elementary School
These 15 schools made the Honor Roll with Distinction for the third year in a row:
Bancroft Elementary School
Bruce-Monroe Elementary School at Park View
C.W. Harris Elementary School
Deal Middle School
Garfield Elementary School
H.D. Cooke Elementary School
Key Elementary School
Mann Elementary School
Maury Elementary School
Orr Elementary School
Powell Elementary School
School Without Walls at Francis-Stevens
School-Within-School at Goding
Stoddert Elementary School
Thomson Elementary School
Civic Engagement and Student Leadership in High Schools
Getting a school to recycle takes a lot of work--teamwork, that is. At several schools across the district, student collaboration has been the key to making recycling a success.
At Cardozo Education Campus students in the recycling club break into small groups collect recycling from around the school. Sometimes this means they have to get a little dirty--the bravest students will sort recyclables out from bins contaminated by messy food trash. Students that participate in recycling collection receive service hours that count towards graduation.
To prepare for a nationwide Lifesmarts competition focused on food waste in schools, one class at McKinley Technology High School conducted a cafeteria waste audit. Eager to learn all that they could about cafeteria food waste, the group of students ambitiously conducted two waste audits in the same day--one during the middle school lunch and one during high school. By raising tough questions about food waste in schools and in America, the team raised awareness and has begun a dialogue in their school about starting to sort organics in their cafeteria every day.
Eastern High School's public policy class selected recycling as their topic for the Mikva Challenge. Students conducted research in the community about views on recycling and took action to kick-start their school's recycling program.
Wilson High School's Recycling Club raises awareness about how to recycle. They also volunteered to monitor DCPS Recycles! sorting station at this year's Rooting DC conference! Check out their instagram account.
Cross-School Collaboration and Sharing
Not only did many schools develop innovative solutions for reducing and recycling, but several created replicable ideas and shared them with other schools to amplify the impact.
● Ron Brown College Preparatory High School invited nearby Burrville Elementary School operations staff to visit to observe how to implement organics recycling in the cafeteria.
● Hearst Elementary School teacher Ashley Boyle created and shared a Smartboard version of the Sort it Out game. This allows students to play the game on a bigger scale or even as a class! By playing this game, students learn how to sort correctly and have fun working with their classmates. This game is not yet up on our website. Email us if you want to have this game to play in your classroom!
● The Office of the State Superintendent for Education (OSSE) Environmental Literacy Cadre convened teachers and helped them to share ideas about environmental education. Because of this sharing, several schools have experimented with Seaton Elementary School's method of having the green team collect recycling.
● Thurgood Marshall Academy PCS students participating in the Mikva Challenge started a recycling program and used one of the replicable ideas that Cardozo Education Campus students came up with during the 2015 DC Recycle Right competition: a lid made from a cardboard box that prevents contamination in paper bins.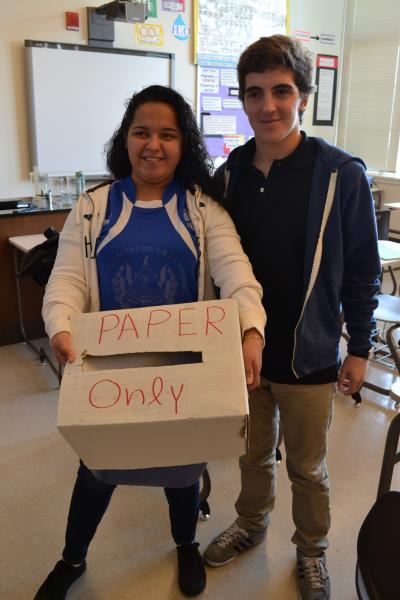 The original 'Paper Only' lid made from a cardboard box by Cardozo High School Students in 2015

STEM Connections
From inviting DGS to present at their STEM fairs to exploring questions about waste for science projects, many schools this year came up with ways to connect recycling in the classroom and the cafeteria with math and science concepts.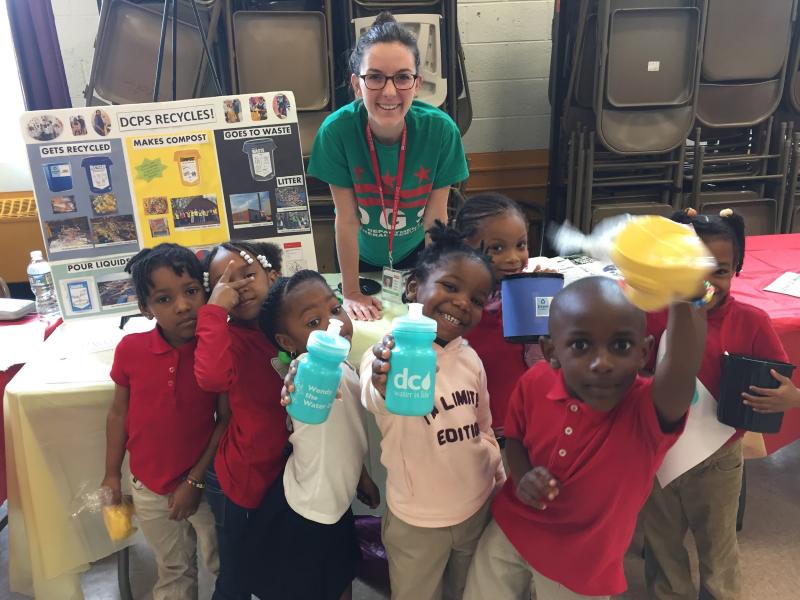 Hendley Elementary School students at the DCPS Recycles! table during their spring STEM expo.
● At the DC Elementary STEM Fair, Key Elementary School students Josephine Caplan, Norah Caplan and Samantha Shapiro won 1st place in the Environmental Science category and 2nd place overall for their project "Cafeteria Waste," which assessed which grades produced the most waste and whether Trash Free Wednesdays actually reduced trash.
● At Malcolm X Elementary School, students collected recycling each week and weighed what they collected. To practice math in a real-world situation, they recorded the weights of recyclables on a graph in their cafeteria.
● Hendley Elementary School and Burroughs Elementary School put on STEM Expos and invited Department of General Services (DGS) to participate. At the DGS table, students learned about the waste cycle by exploring what happens after you put an item in the waste, compost or recycling bin, and competed against one another to sort classroom waste correctly. They quickly learned that tissues and paper towels go in the trash not the paper bin, and became classroom recycling experts!
● The Office of the State Superintendent for Education (OSSE) funded Garbology lessons taught by the Audubon Naturalist Society at schools that were part of the first OSSE Environmental Literacy Leadership Cadre. As part of these lessons, Seaton Elementary School 2nd graders participated in a park cleanup where they collected nearly 14 pounds of recyclable litter and 4 pounds of landfill trash in just half an hour spent cleaning up the Shaw Recreation Center park area.
● Five DCPS teachers wrote 5E lesson plans to integrate DCPS Recycles! Challenges with classroom learning. There are lesson plans for all ages Pre-K through high school.
Always Recycling: Making Sorting the Norm in DCPS Schools
This year, several schools and events set examples by demonstrating that everyone in their buildings is expected to follow their rules and recycle right! Whether by hosting events specifically focused on recycling and environmental stewardship or setting up waste sorting stations at events in their buildings, these schools set the expectation that recycling is the norm.
In March, Dunbar High School hosted the 2017 DC STEM Fair, organized by the Carnegie Institution for Science. DGS collaborated with organizers and volunteers from the Sierra Club's Zero Waste Committee to sort waste according to DCPS Recycles! Guidelines. The event generated nearly 140 pounds of waste and achieved a waste diversion rate of 48%.
At Burroughs Elementary School, students who are part of the Recycling Club can earn a Green Team badge by taking a test to prove their mastery of cafeteria and classroom sorting. The coveted badge qualifies students to be cafeteria bin monitors during mealtimes and at events, such as their STEM Expo.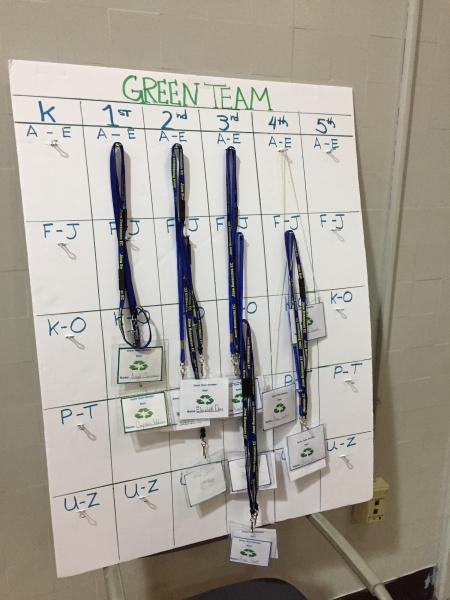 Green Team badges at Burroughs Elementary School
All eight Shape the Future of DCPS community conversations had three-bin cafeteria sorting stations to separate waste streams from the meal served, introducing the DCPS recycling program to school communities across the district.
Marie Reed Elementary School hosted an Earth Day Assembly where students learned how to use the full DCPS Recycles! three-bin cafeteria sorting station, which they will begin to use once they move into their modernized building next fall. Students also sang about reducing, reusing, and recycling, participated in a 'Sort-it Out' relay race, and planted edible plants in their garden.
Along with several DCPS and Public Charter Schools, DCPS Recycles! attended the annual Anacostia Environmental Youth Summit to promote environmental literacy. A lunch waste sorting station demonstrated live the separation of the different types of waste from the event.
Burroughs Elementary School, Powell Elementary School and C.W. Harris Elementary School have come up with innovative methods for sorting compost at breakfast as well as during lunch, while Van Ness Elementary School continues to implement breakfast sorting in pre-K classrooms. In their winning STEM fair project, Key Elementary School students highlighted sorting at breakfast as a recommendation to reduce waste in their school.
DCPS Parents Engage In Recycling
Nonprofit Turning the Page invited DGS to their STEM Community Night at Garfield Elementary School to help students and parents sort waste at dinner and to talk with parents about how to strengthen the home-school connection by using recycling ta home to learn about STEM concepts. Since many Garfield students are expert recyclers and composters, sometimes they are the ones teaching their parents about the waste cycle!
To mirror their students' waste sorting in the cafeteria, the PTO at Van Ness Elementary School decided to try to make their meetings Zero Waste! To do this, they set up a DCPS Recycles! sorting station and used it to collect their meal waste with the help of Van Ness operations staff.
At the School Without Walls at Francis-Stevens, parents and educators convene regularly in their FoodPrints classroom as part of an Environmental Literacy Committee. This committee addresses a range of topics including grant writing for the school's environmental projects, understanding how local and federal policy may impact these projects, and how to improve their recycling program. One of their major successes: thanks to careful upkeep and funding for expansion from grants, School Without Walls at Francis-Stevens is set to have the largest school garden in DCPS!
Learning Expeditions
Learning expeditions that take students outside of the classroom allow them to experience in the real world recycling, STEM, and environmental concepts. Not only do these experiences make the concepts much more memorable, they help to equip students with knowledge to pursue careers in green fields and to be responsible global citizens. Several schools had the opportunity to visit a composting facility, a materials recycling facility (MRF) or both. OSSE helped to provide funding for these environmental field experiences.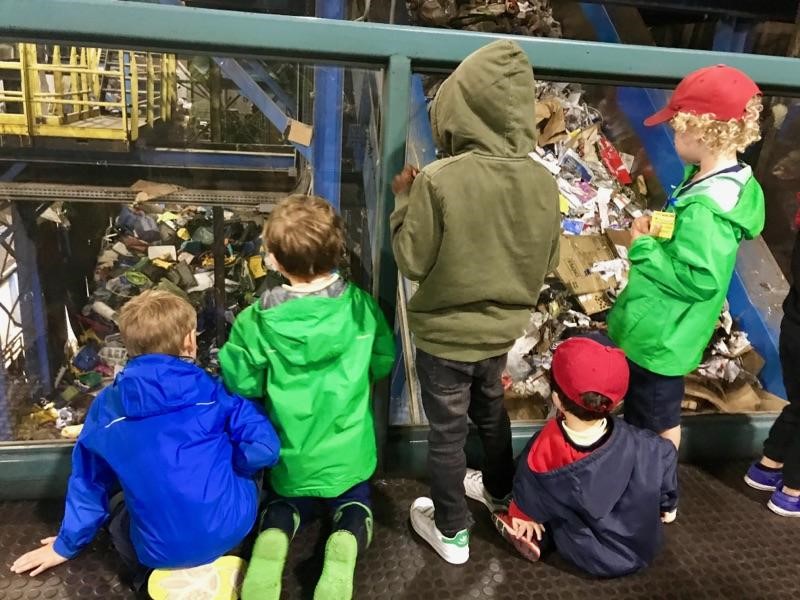 Tyler Elementary School students visited a Materials Recycling Facility (MRF)
Ms. Chapa's kindergarten class from Tyler Elementary School visited the Prince George's County materials recycling facility (MRF, pronounced "murf"). The students were surprised to see such large piles of recyclables and excited to see in person how "trash" can be turned into new things.
After participating in the Audubon Naturalist Society Garbology program, 2nd graders from Kimball Elementary School also had the opportunity to visit the Prince George's County MRF to see what happens to items after you put them in the recycling bin.
Students from the School Without Walls at Francis-Stevens took a trip to Western Branch Composting facility in Upper Marlboro, MD. While on their tour, they saw a pile of finished compost that had been made using food scraps from the Smithsonian cafe and was headed to the White House garden. Upon returning, they incorporated their learning from the trip into an EcoRise curriculum game about sustainable fishing. By the end of the day, the students' heads were very "full of things to think about!"
Langdon Elementary School students had the opportunity to visit a nearby compost collective site (managed by the Department of Parks and Recreation) to see how food scraps and other organic waste can be transformed into soil for growing healthy plants and food through composting.
Washington Latin Public Charter School paid a visit to the Covanta Energy-From-Waste facility to see what happens to trash after it's been sorted into the waste bin and collected by garbage trucks. They also did a personal waste audit activity where they carried their own waste around for several days and engaged in conversations with other high schoolers about waste.
Food Recovery
Using otherwise wasted food to feed hungry people is a food recovery strategy that has more benefits to the environment, economy, and society than throwing it away or composting it. Recognizing this, a few schools developed strategies for saving food from their cafeteria to donate rather than sending it to a landfill or composting facility.
● Last year, Mann Elementary School raised money to buy a refrigerator to store rescued food items. Now food rescue volunteers regularly collect otherwise-wasted food items from their cafeteria and donate them to a nearby organization that empowers and supports individuals experiencing or at risk of experiencing homelessness.
● On the first day they started setting aside leftover food for donation, the School Without Walls at Francis-Stevens saved 67 cartons of milk and over 30 pieces of fruit and packets of crackers from being thrown away during lunch. They began using the MEANS database and building a partnership with a local charity to prevent this good food and milk from going to waste. Though this has taken planning and volunteer time from the school community, who has organized cold storage and consistent transportation for the otherwise-wasted food, the school is happy that they are no longer sending a message to their students that throwing good food away is acceptable.
● Food Rescue US is working with schools including Wilson High School to recover donatable food items, and is available to help any school find transportation for leftover food items that can be donated, such as whole fruit or unopened packaged items.
Paper Waste Eradicators
These DCPS schools came up with inventive ways to reduce excessive paper use and raise awareness about paper waste
● Eight DCPS schools and one public charter school participated in this year's Reduce First Challenge--Paper Edition and worked to solve a real world problem: how to reduce paper waste in schools. All nine participating schools developed unique and creative strategies for reducing paper use and waste in classrooms.
● School Without Walls at Francis-Stevens's Student Sustainability Corps had one particularly creative idea for reducing paper waste--they used paper from the recycling bins to create booklets for the younger students to use for writing practice. By doing this, they saved several hundreds of sheets of new paper, which would have otherwise been used to create the booklets.
● Students at School-Within-School @ Goding are learning to clean up after themselves using, washing, and reusing microfiber cloths instead of paper towels. This is a green cleaning best practice!
Maintenance Masters
Several maintenance professionals have been particularly dedicated to maintaining beautiful school buildings and creative in implementing the DCPS Recycles! Program to maximize benefits to the school and minimize their buildings' environmental impact.
● Calep Epps at Burroughs Elementary School brought his experience participating the DCPS Recycles! program at Landgon Elementary School to secure buy-in from maintenance and food services staff at his new school. He has developed multiple recycling innovations to simplify the collection process, including the recycling sorting stations found in Burroughs' hallways, and a system for teachers to empty their own paper recycling into central sorting stations. As a result of his success, he was invited to share best practices with Fairfax County Public School custodian managers on a training boat ride conducted by the Chesapeake Bay Foundation. He also presented with his teammate, teacher Allison Ewing, alongside DCPS Recycles! at the OCOO Institute, and helped to manage waste sorting at the Ward 5 Shape the Future of DCPS community conversation at Luke C Moore High School.
● Diane Winsett at Moten Elementary School continues to maintain one of the cleanest dumpster areas around by proactively reporting pick up issues to DGS and ensuring that all materials are collected into the right containers.
● Maria Ortiz at Dorothy Height Elementary School fills compostable bags for each lunch period just half full to lessen the weight of each bag and make transferring organics to the carts even easier.
● Rhonda Keith at Roosevelt High School keeps their paper compactor smelling fresh by assuring proper sorting--the compactor at Roosevelt has never had food in it!
District schools have much to be proud of! DCPS Recycles! is looking forward to an even more successful year starting this fall.