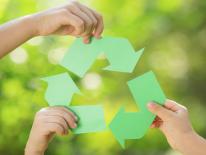 The District of Columbia Public School (DCPS) teachers are invited to apply to join the Sustainability Corps. The Sustainability Corps is a group of interdisciplinary DCPS educators who will work with the Department of General Services (DGS) and the Office of Teaching and Learning to develop curriculum that will engage students in solving real-world sustainability problems facing their school. DGS will provide training in real industry methodologies and supporting materials.
This school year's theme is DCPS Recycles! The Sustainability Corps will focus on waste investigations and corps members will work together in grade bands to develop and share solutions to challenges facing their school's recycling program. Selected applicants will begin their work in August and continue throughout the 2015-2016 school year. There are up to 12 positions available.
Applicants must be recommended by a master educator, Instructional coach, curriculum specialist, or school leader. To apply, please send a resume, cover letter and 3 references to Beth Gingold by May 29, 2015.