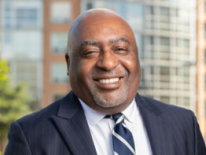 George Lewis is a Certified Public Procurement Officer (CPPO) and has served as a Chief Contracting Officer for major acquisitions with unlimited authority for the District of Columbia government and other public entities across the United States.
Since August 2016, George has served as the Chief Procurement Officer for Washington, D.C. Department of General Services, where he manages the purchase of $1 Billion in goods and construction services to modernize District Public Schools and other District-owned properties.
Prior to joining DGS, George served as the Chief Contracting Officer for Acquisition Management for the District of Columbia's Office of Contracts and Procurement. George served as the Senior Business and Policy Advisor on acquisition planning to the District of Columbia's Chief Procurement Officer. During his time at OCP, he managed the rollout of the agency's Acquisition and Forecasting web portal to increase transparency and to provide meaningful participation of small businesses in the District's procurement process.
Prior to joining District Government, George served as the Procurement Manager at the Washington Metropolitan Area Transit Authority for bus procurements and professional services and served as a member of WMATA's Disadvantaged Business Enterprise Certification Committee.
Mr. Lewis is a proud member of the National Forum for Black Public Administrators, the National Institute for Governmental Purchasing and the National Association of State Procurement Officials.