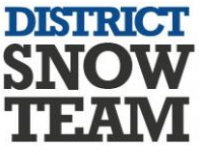 1. What role does the Department of General Services (DGS) have in the removal of snow in DC?
Part of the mission of DGS is to ensure District administrative facilities, schools, shelters, recreation centers and parks are operating smoothly without disruption of services to residents. As part of the District Snow Team, DGS is responsible for snow removal at approximately 850 properties, which includes the Metropolitan Police Department (MPD) and DC Fire and EMS (DCFEMS) sites, DC Public Schools (DCPS) sites, Department of Parks and Recreation (DPR) facilities and parks, and Department of Human Services (DHS) shelters and other municipal properties.
2. Is DGS responsible for removing snow from streets and alleys?
DGS is not responsible for snow removal from public space such as streets and alleys.
3. How does DGS prepare for the snow and ice season?
In preparation for the snow and ice season, DGS prepares by stockpiling salt, sand, and chemicals at strategic locations. Equipment is tested on dry run exercises, employees are given specialized training, snow routes are driven, and private contractors with heavy equipment are contracted and placed on standby if needed to help with snow removal.
4. How many properties are DGS responsible for in the removal of snow and ice?
DGS is responsible for pretreatment and snow and ice removal at approximately 850 District-owned properties
5. What properties does DGS clear first? How are they prioritized?
DGS considers all District-owned properties that it manages as important facilities. However, during a winter storm event it is imperative that emergency service personnel, and other immediate-need facilities are cleared first. DGS follows a three-tier priority system for the District's properties as follows:
Priority 1 Tier
MPD/DC FEMS
DCPS Schools/OSSE Bus Lots
DHS Shelters
DHS-identified Hypothermia Centers
Essential Municipal Buildings
Priority 2 Tier
Senior Wellness Centers
Recreation/Community Centers
Remaining Government Buildings
Priority 3 Tier
Pocket and Triangle Parks
Playgrounds
Dog Parks
Vacant Properties
6. How quickly does DGS mobilize for snow removal?
The District's Department of Homeland Security and Emergency Management Agency (HSEMA) is the District's lead agency during snow events. DGS mobilizes and implements its snow plan within three (3) hours of a notification from HSEMA of a snow event or advisory.
7. How long does it normally take for DGS to remove snow and ice?
A standard service cycle is typically executed within 12 hours for Priority Tier 1 and 2 sites.
8. How can residents report DGS properties in need of attention?
Please call the work order management unit at (202)576-7676 to put in a service request.
9. Where should I go to find out about DC Public Schools (DCPS) closings?
Information regarding DCPS school delays or closing will be posted on the DCPS website (www.dcps.dc.gov), DCPS social media platforms such as Twitter (@dcpublicschools), and local TV and radio stations.
10. How can I stay informed about winter weather conditions and the impact on the District?
AlertDC is the official District of Columbia communications system that sends emergency alerts, notifications, and updates to your devices. This system enables the District to provide you with critical information in situations such as traffic conditions, government closures, public safety incidents, and severe weather. AlertDC is your connection to real-time updates and instructions to protect yourself, your loved ones, and your community. Sign up at alertdc.dc.gov.
For more information on District-wide snow removal, go to snow.dc.gov.