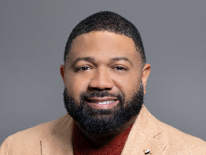 Donny Gonzalez is a native Washingtonian and has been a public servant for over ten years, starting as the Advisory Neighborhood Commissioner of 1A09. He currently serves as the Deputy Director of the Department of General Services (DGS) Facilities and Maintenance Division. In this role, Mr. Gonzalez plans, organizes and directs the annual budget, maintenance, repair and alteration of district facilities and grounds. He is a principal district representative in preparing for the turnover of newly constructed area facilities to DGS. In his previous role as the Senior Operations Manager, he oversaw the work order management system, personnel management and teams that provide oversight of district government facilities including police stations, DC Fire and Emergency Management, public schools and recreation facilities.
In his previous role as Community Liaison at the Office of Public Education Facilities Modernization (OPEFM), Mr. Gonzalez served as a representative for the Agency at public meetings and established the School Improvement Team or SIT to create better collaboration with parents, school and community leaders and contractors around school modernization projects.
Mr. Gonzalez began his career as a Ward 1 Community Relations Specialist working in the Executive Office of the Mayor. He later owned a small business, before his appointment to the Department of General Services.
Mr. Gonzalez is currently completing a Bachelor of Science degree in Business Administration at Strayer University. He is fluent in Spanish and is passionate about his Afro-Latino heritage.