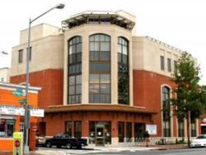 Project Overview
The Ward One Senior Wellness Center is a 15,000 square foot structure that provides services for District seniors. These services include health promotion and disease prevention activities as well as programs that promote self-care, exercise, healthy lifestyles, and longevity for District residents.
Project Feautures
Nutrition Education Room with full kitchen teaching/demonstration area

Fitness Room featuring treadmills, elliptical machines, exercise bikes and weight training machines

Multipurpose Room for large gatherings and aerobic exercise equipment

Computer Training Room with more than a half dozen computers

Reading Meditation Room

Social/Cognitive Activity Room

Conference Room

Massage Room

Accessible Roof with Rooftop Seating
The District held a ribbon cutting ceremony on September 10, 2010. View the video.
Project Details
Ward One Senior Wellness Center Project
Providing Agency: Department of General Services (DGS)
Status: Completed
Type: New Construction
Completed Date: September 10, 2010
Actual Budget: $4,350,000.00
Location: 3531 Georgia Avenue, NW