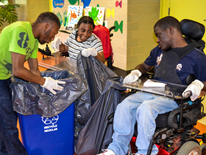 By Brooke Hartman, Schools Outreach Specialist
DGS is proud to share this DCPS Recycles! Honor Roll Success Story from Sharpe Health School!
Schools have been using recycling programs as a way to involve students in environmental stewardship as well as promote things such as student leadership, respect, responsibility, and community service for many years.
Sharpe Health School, a school dedicated to providing education to students with special needs, has designed their school recycling program in a way that serves not only as a waste reduction program but also as an in-school job training program, preparing students for life after graduation. Once per week a group of students travel from room to room collecting recyclables from the blue bins in each room and hallway. A student's role on the team depends on their capabilities - some students gather the bins from the classroom, while others combine the recyclables into bags - but each member of the group has something to offer to the program, and the students work together to get the job done.
After they collect the recyclables they begin the sorting process, which enables them to practice skills that they will be able to utilize in their future jobs. Similarly to the collection process, the students work together as a team to sort recyclables into two distinct categories of recyclables - plastic/aluminum/glass and clean paper products. Although members of the school community do a good job at recycling, some people make mistakes. Luckily the job training aspect of their recycling program enables these students to sort out the things like wet paper towels and chip bags that contaminate recycling collections. At the end of the process the students have generated multiple bags of clean paper products and empty bottles and cans, perfect for recycling!
If you have any questions or media inquiries, please contact:
Kenny Diggs, DGS Director of Government Affairs and Communications
Phone: (202) 580-9361
What would you like to read about on the DGS Blog? Let us know.