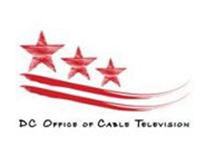 Project Overview
The Brentwood Broadcast Center, formerly a vacant studio building owned by Black Entertainment Television (BET) and purchased by the District government from BET in 2010, is situated on District government owned property. The facility's design and renovation process was implemented by the District of Columbia's Department of General Services (DGS).
The DC Office of Cable Television (OCT) is the District Government Agency responsible for regulating cable television in the District, as well as the administration of the District's Government Access Channels DCC, DCN and the District's Education Access Channel DKN. OCT creates content that informs, educates and entertains viewers via the District of Columbia's public, educational and government (PEG) channels and other forms of content outlets. The award winning content provides resourceful information on government activity, education, current events, history and arts and entertainment. Through its three cable television channels, OCT provides public access to the governmental process, and insights into life in the District.
This newly modernized DC Office of Cable Television's (OCT) Brentwood Broadcast Center now houses the District's pubic, educational and governmental (PEG) television stations - District Council Channel (DCC), District of Columbia Network (DCN) and the District Knowledge Network (DKN).
Located in Ward 5, the Office of Cable Television's Brentwood Broadcast Center is a 30,525 sq-ft, LEED certified, fully-modernized, digital facility equipped with two television production studios; both high definition and standard definition, each with:
high ceilings for lighting grids and jib operation
sufficient crawl space for necessary cable wiring and access
a loading dock for large equipment and set pieces
eight editing suites, administrative offices
a community meeting space
an uninterrupted power supply (UPS) generator for emergency preparedness purposes
Project Details
DC Office of Cable Television Brentwood Broadcast Center Project
Location:
1899 Ninth Street, NE
Ward: 5
LEED Certified
Status: Completed Summer 2014
Ribbon Cutting: July 1, 2014