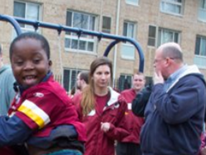 Project Overview
The current play space includes a baseball field, basketball court, tennis courts, and play equipment. The concept for the new play space at Congress Heights calls for an improved entry to the site, new trees and a rubberized play surface. New equipment will be located more centrally in the site, and will include a spray feature. An outdoor classroom and performance space enhance the site, and the tennis courts and basketball courts will be relocated and resurfaced.
Renovated tennis and basketball courts provide great ways to MOVE and be active. New learning stations and an outdoor classroom provide opportunities to GROW in your knowledge of the natural world. A native planting garden encourages us to play and BE GREEN.
Project Details
Congress Heights Play DC Playground Project
Location: 611 Alabama Avenue, SE
Ward: 8
Status: Complete
DGS Contact:
Jackie Stanley
Note: More information will be posted as it becomes available.