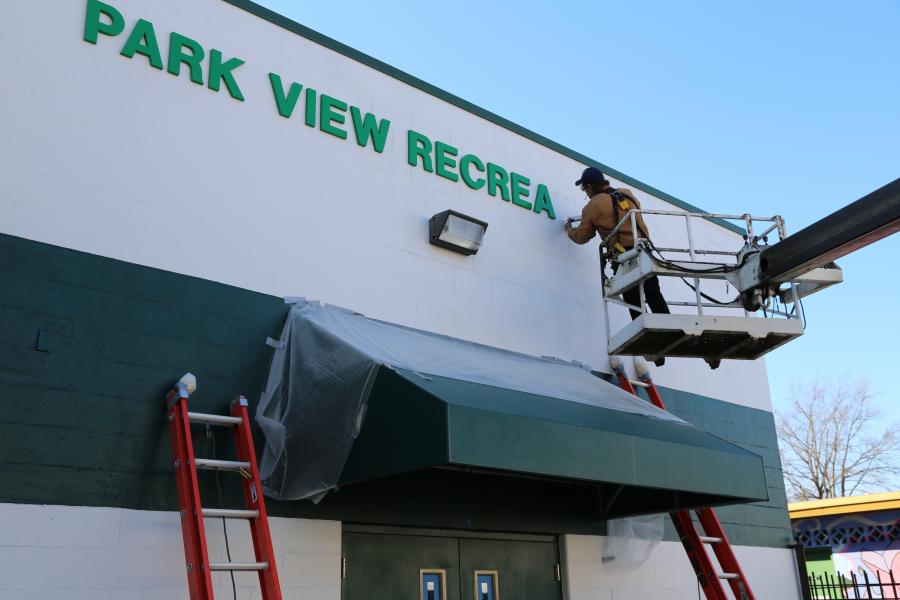 Park View Spotlight | By James Partlow IV, Digital & Social Media Strategist
In celebration of Black History Month, we are spotlighting recent Department of General Services (DGS) construction projects that are named after significant Black History People & Places in the District of Columbia, our nation. The first project that we will highlight is the Park View Field House in Ward 1.
Project Summary:
The Park View Field House is located on the site Park View Recreation Center, 696 Otis Place, NW, Washington, DC 20010 in Ward 1. The Field House was constructed in 1932 and is a one and a half story Colonial Revival style building.
Construction Agency: DGS
Start Date: April 2015
End Date: Summer 2015
General Contractor: Kadcon
Architects: Quinn Evans Architects
Status: Construction Complete
To learn more about DGS' recent construction project at the Park View Field House.
History of the Park View Neighborhood
Historical records show that Park View came into being in 1908 when several neighborhoods were combined. It sits east of Columbia Heights, bounded by Rock Creek Church Road to the north, Gresham Place to the south, Georgia Avenue to the west and Park Place and the grounds around the Old Soldier's Home to the east. Depending on who you ask, there is also a small triangle formed by Park Road, Georgia Avenue and New Hampshire jutting out to the west that is included in the neighborhood. The "Park" in Park View refers to the nearby grounds of the Old Soldiers' Home, which used to be open to the public as a space comparable to New York City's Central Park. (Source: DC Curb)
Around 1950, the originally all-white Park View neighborhood became mostly African American, due to the proximity of Howard University and to the 1948 Supreme Court ruling that made restrictive housing covenants unenforceable. (Source: Historic Park View: A Walking Tour)
This historic African American neighborhood was the catalyst to many innovative minds that have impacted the world that we live in today. Here are a few of the significant African Americans that have lived in the Park View neighborhood:
Prominent African American Attorney
First African American Graduate of the University of Chicago Law School
President of the National Negro Baseball League
First African American Attorney to serve in the Post Office Department in a professional capacity
Pioneer in Public Health & Dental Health
Graduated from the M Street (later Dunbar High School) and from Howard University's School of Dentistry
First chief of the Special Programs Branch, PHS Division of Health Education
Prominent Anatomist
Graduated Howard University with a degree in Medicine
Research baldness, deafness, and glaucoma
Received U.S. Department of Defense's Pentagon Award in 1975 for his research on the mechanics of blast injuries
White House Butler for 34 years until he retired as Head Butler in 1986
Invited by First Lady Nancy Reagan to attend a 1986 state dinner for German Chancellor Helmut Kohl
Honored with an invitation to attend President Barack Obama's swearing-in
To learn more about the DGS recent construction project at the Park View Field House